Sign legally on any device with our eSignature application
The eOriginal SmartSign® service is designed to help your business capture all the benefits that eSignature technology offers by providing a customizable, branded signing solution that enables you to conduct business faster, reduce operating costs and provide a sleeker customer experience. Through an extensive collection of programming interfaces, eOriginal's SmartSign software integrates with existing document or content management systems to create more streamlined and efficient business processes.
The solution can be delivered as a web-based application, mobile application or embedded application, and offers customers and partners a variety of integration options, ranging from minimal ("zero") integration to a complete OEM embedded solution, depending on business requirements and transaction volume.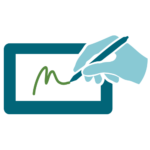 Participant Authentication
Multiple authentication methods, including email/security code, OFAC lookup, SMS text PIN delivery and knowledge-based authentication using "out-of-wallet" challenge questions.

Workflow Management
Configure each step of the eSignature workflow including requirements for multiple signers and signatures, routing and sequencing.

Disclosure and Consent
Record consumer disclosure delivery and consent to conduct electronic transactions, all in accordance with the requirements of the Uniform Electronic Transaction Act (UETA) and the Federal Electronic Signatures in Global and National Commerce Act (ESIGN).

Forms/Data Capture
Import and define collections of documents for specific business processes. Capture data before or during signing sessions and merge with PDF documents.

Electronic Signature Capture
Capture electronic signatures using typed text, image upload, voice recording, or signature devices.

Mobile, Tablet and Remote
Signing Sessions
Optimize the signing experience through a unique user interface specifically designed for smart phones and other mobile devices.