BALTIMORE – eOriginal, the digital transaction experts, announced today that it is sponsoring the 21stAnnual ABS East Conference, one of the premier conferences focused on the structured finance and securitization markets.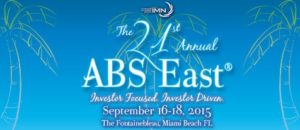 The three-day event hosted by Information Management Network (IMN) will take place at the Fontainebleau Resort in Miami Beach, Fla., on September 16 to 18, 2015. This year's program features intensive panel discussion and market insight on topics regarding asset backed security and securitization within the following markets: marketplace lending; solar and renewable energy; subprime/nonprime auto loans; student loans; equipment leasing; and consumer lending.
eOriginal President and CEO Stephen Bisbee will be featured as a panelist during the conference . As a pioneer in Digital Transaction Management and its subset technologies, such as electronic signature, vaulting and transaction services, Bisbee offers a wealth of knowledge and experience across a variety of industries that securitize and collateralize.
Additionally, eOriginal experts will be on site to discuss the process of an organization moving into a fully digital environment for eContracting and management of documents post-signature.
"As a premier provider of digital asset management solutions, we are no stranger to the needs of both issuers and investors when it comes to securitization," said Bisbee. "We are proud to serve as a vital part of the conversation at ABS East to educate these key players on the benefits of digitally managing their assets throughout their lifecycle – enabling digital asset securitization."
For needs ranging from secure storage to securitization on the secondary markets, eOriginal's eAsset®Management Platform treats every transaction as a financial asset that must be verifiably secure, legally compliant and enforceable. eOriginal enables secondary market capabilities for customers by regularly collaborating with legal counsels to set up electronic vaulting for securitization processes.
Attendees interested in meeting with an eOriginal representative during the ABS East Conference should schedule a meeting here: http://info.eoriginal.com/TS-2015-09-ABS-East.html.