New Study Recognizes Strengths of eOriginal's eAsset® Management Platform, Robust Transaction Services and Datalytics™
BALTIMORE – November 3, 2016 – eOriginal, Inc., the digital transaction experts, has been named a leader in Digital Transaction Management in the Aragon Research Globe™ for Digital Transaction Management, 2016: Transformation Unleashed report.
In the report, Aragon Research, a premier technology research and advisory firm based in Silicon Valley, examined 15 major providers who offer Digital Transaction Management (DTM) applications and highlighted eOriginal as an advanced DTM provider due to its asset management solutions and its robust transaction services. It also notes that ability of eOriginal's Datalytics product to collect advanced analytics to allow businesses to understand how digital transactions impact their organization.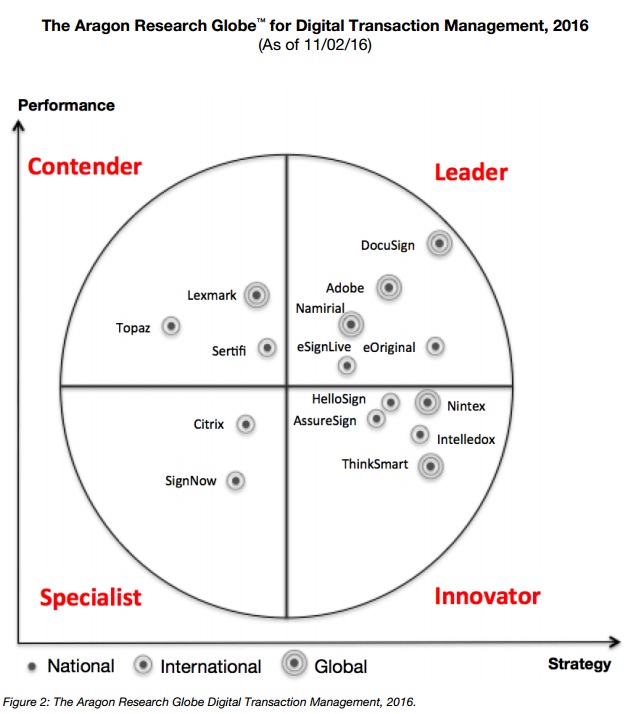 "Enterprises that are leveraging DTM-based processes are seeing their revenue accelerate, providing their customers with a better experience, and ensuring they remain compliant," said Jim Lundy, CEO and lead analyst at Aragon Research. "eOriginal has positioned itself as a trusted provider to the financial services community, and has uniquely positioned itself for advanced provider to a DTM space that is expected to grow into a $30 billion market by 2020."
The Aragon Research report states: "eOriginal has become known as one of the go-to providers of complex DTM Solutions. eOriginal is entrenched in many banks and financial services organizations. This is due in part to its Asset Management offering, which is the system of record for many loan providers, due to its ability to track all aspects of the lifecycle of a Digital Transaction."
Indeed, there has been exponential demand for advanced DTM to manage the entire lifecycle of a digital transaction across the entire lending and financing ecosystem, from originators, investors and custodians. eOriginal's eAsset® Management Platform provides the maintenance, control and use of critical documents that have an intrinsic value, such as negotiable instruments, in a fully digital environment that has garnered the trust of rating agencies, institutional investors and custodians. The result provides maximum confidence in the entire lending process while also creating valuable efficiencies in moving assets to the secondary market.
"The value of adopting DTM has never been greater and is becoming a business imperative," commented Stephen Bisbee, CEO and president at eOriginal. "As the trusted expert in DTM in financial services, we are in strong position to provide superior service and support to client's demanding the best-in-class solution for digital management of high-value documents."
The firm has previously ranked eOriginal as a leader in its "Aragon Research 2015 Tech Spectrum for DTM – Moving Beyond Paper" and as the best-known provider of DTM Asset Management services in a May 2015 report titled "Digital Transaction Management and the Rise of Digital Assets."
Aragon Research does not endorse vendors, or their products or services that are referenced in its research publications, and does not advise users to select those vendors that are rated the highest. Aragon Research publications consist of the opinions of Aragon Research and Advisory Services organization and should not be construed as statements of fact.  Aragon Research provides its research publications and the information contained in them "AS IS," without warranty of any kind.
# # #
About eOriginal, Inc.
Founded in 1996, eOriginal is the trusted expert in digital transaction management solutions, specializing in the post-execution management of financial asset documentation. eOriginal SmartSign® and eAsset® Management Services enable an end-to-end solution for fully electronic transactions that must be managed with the highest levels of security and compliance throughout their lifecycle. By treating every transaction as having assets that must be verifiably secure, legally compliant and enforceable, eOriginal provides its customers and partners with eCertainty®. For more information, please visit https://www.eoriginal.com. eOriginal®, eAsset®, eOriginal SmartSign® and eCertainty® are trademarks of eOriginal, Inc. and are registered in the United States or in other jurisdictions.