BALTIMORE, MD. — eOriginal, the digital transaction experts, announced today that it will be exhibiting at the Marketplace Lending and Investing Conference presented by American Banker.
The two-day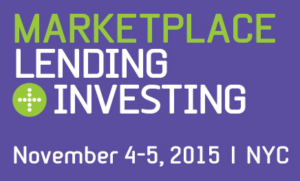 conference takes place Nov. 4 and 5 at the Hilton Midtown New York, where marketplace lenders, bankers and investors will discuss the rapid growth and evolution of consumer finance through technology and data, as the trusted role of banks continues to come under pressure. This year's event features three breakout sections on alternative lending, generating yield and global opportunities within the industry.
With regulatory scrutiny of marketplace lending on the rise, eOriginal is eager to discuss with attendees the importance of building certainty into their asset management to comply with future regulations. As complexity and risk rise, adopting practices that provide unique authoritative copies of the assets and confidence will be a necessity.
"As there is continuing uncertainty surrounding how regulators will oversee the industry, we believe now is the time to eliminate the ambiguity in your lending and secondary market processes with ironclad digital contract management practices that enhance transparency and efficiency while remaining in a fully digital environment," said eOriginal President and CEO Stephen Bisbee.
Digital asset management experts from eOriginal will be at booth 104 to provide demos and answer questions about how eOriginal's eAsset® Management solutions can provide security and compliance at mass market exchange levels, allowing digital transactions to be managed and monetized in a way that mitigates risk and provides trust to buyers and future investors. eOriginal representatives will also be providing an overview of Datalytics™, a new real-time asset-level auditing and compliance solution for the financial services industry.
Moreover, representatives will be able to discuss eOriginal's fully electronic, disruptive mortgage platform. eOriginal has spearheaded the collaboration of several integration partners to deliver a fully digital process that includes eNotarization, eRecording, eWarehousing, eCustodian services and integration with Mortgage Industry Standards Maintenance Organization (MISMO) compliant SmartDocs and Forms.
Attendees interested in meeting with an eOriginal representative while in New York City for the Marketplace Lending and Investing Conference can schedule a meeting here: http://info.eoriginal.com/Marketplace-Lending-NYC.html.