BALTIMORE — eOriginal, the digital transaction experts, announced today that Stephen Bisbee, President and CEO of eOriginal, will serve as a panelist at the 21st Annual ABS East Conference, one of the premier conferences focused on the structured finance and securitization markets.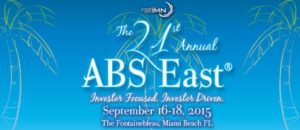 The "Marketplace Lending 101" session will be held at 1:50 p.m. EST on Wednesday, Sept. 16, the first day of the three-day conference in Miami Beach, as part of the Track B sessions.
Bisbee, a pioneer of Digital Transaction Management (DTM) and authority in asset-backed securitizations, will be joined by Matthew Joseph, Partner of Morgan, Lewis & Bockius, Matthew Hays, Partner of Kirkland & Ellis LLP, Paul Stockamore, Head of Capital Markets of LendingHome, Amit Sinha, Partner of One Zero Capital and Kevin Lundquist, Director of Citi.
As part of the discussion, the team of panelists will explore several aspects of the marketplace lending industry, including: the origination process flow, the business models and strategies, where institutional investors fit in and the industries affected by the emergence of marketplace lenders.
"I look forward to discussing the rapidly-growing, highly-innovative marketplace lending industry as it continues to impress and upend lenders in a variety of industries with its creative approach to funding," said Bisbee. "We anticipate that it will continue to thrive, questioning traditional, antiquated processes found in lending industries."
Bisbee will bring his expertise on the growth of electronic contracting and electronic securitization within the industry to the panel highlighting several benefits, including: enhanced customer experiences that meet digital expectations; more efficient loan process flows; and enabling the management of assets as transferable records within the secondary market.
"The digital management of mortgage loans as financial assets is a perfect example of where marketplace lending can benefit and completely change a paper-filled industry," explained Bisbee. "Not only does an end-to-end eMortgage process mitigate risk and enable mortgage asset securitization for the lender, it provides a home-buying experience that meets demands of the millennial generation who are slowly emerging as homebuyers within the market."
The ABS East Conference will take place at the Fontainebleau Resort in Miami Beach, Fla., on September 16-18, 2015. Attendees interested in meeting with an eOriginal representative during the ABS East Conference to discuss the topics of the session or how to optimize their business with digital asset management should schedule a meeting here: http://info.eoriginal.com/TS-2015-09-ABS-East.html.