Voluntary Audit Exemplifies eOriginal's Commitment to Client Security, Controls and Processes Involved in Storage, Handling and Secure Transmission of Data
Baltimore – October 18, 2016 – eOriginal, Inc., the experts in digital transactions, today announced the successful completion of a Statement of Standards for Attestation (SSAE) No. 16 Service Organization Control (SOC) 1 Type 2 audit on its Electronic Transaction Services. The SOC 1 audit is performed by an independent firm that examines the controls
and processes involved in storing, handling and transmitting data securely.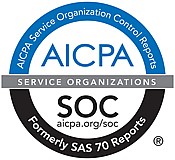 "The successful completion of this voluntary inspection indicates eOriginal's continued commitment to create and maintain the most stringent controls for the protection and security of customers' confidential information," said eOriginal's President and CEO Stephen Bisbee. "The SOC audit provides clients a means to objectively evaluate their service providers, and we are proud to offer our clients this objective evaluation criterion.  We feel it validates their decision to partner with eOriginal."
Service organization audits have become increasingly important for data-handling service providers since the passage of the Sarbanes-Oxley legislation, which requires a company's business partners to have adequate internal controls. The SOC 1 examination is widely recognized because it provides assurance that a service organization has been through a comprehensive evaluation of their control activities as they relate to an audit of its customers' financial statements.
The SOC 1 audit that eOriginal successfully completed is the rigorous Type 2 examination that includes a detailed testing of eOriginal's controls by an independent licensed Certified Public Accounting Firm that specializes in conducting SOC audits.  The auditor examined eOriginal's controls related to firewall configuration, information security, change management, computer operations, data communication, backup, physical security, and more.
Following the audit, eOriginal received a Service Auditor's Audit Report with no exceptions demonstrating that eOriginal's policies, procedures and infrastructure for data protection, security and confidentiality met or exceeded the stringent SSAE 16 criteria.
eOriginal's customers can easily incorporate its Service Auditor's Report in their Sarbanes-Oxley compliance programs as proof that appropriate controls are in place.  The SOC 1 audit can also help eOriginal's customers comply with other regulations, including GLBA (Gramm-Leach-Bliley Act of 1999) and ISO 27001/27002. More information about eOriginal's Electronic Transaction Services can be found at www.eoriginal.com.
# # #
About eOriginal, Inc.
Founded in 1996, eOriginal is the trusted expert in digital transaction management solutions, specializing in the post-execution management of financial asset documentation. eOriginal SmartSign® and eAsset® Management Services enable an end-to-end solution for fully electronic transactions that must be managed with the highest levels of security and compliance throughout their lifecycle. By treating every transaction as having assets that must be verifiably secure, legally compliant and enforceable, eOriginal provides its customers and partners with eCertainty®. For more information, please visit https://www.eoriginal.com. eOriginal®, eAsset®, eOriginal SmartSign® and eCertainty® are trademarks of eOriginal, Inc. and are registered in the United States or in other jurisdictions.