REQUIREMENTS
MotoLease's commitment to transformative technology adoption has resulted in unparalleled efficiencies for its team and a competitive advantage for dealers. Under the recommendation from a credit facility provider, MotoLease turned to eOriginal to develop and implement best practices around eSignature and financial asset monetization in a fully digital environment.
In addition to the technology itself, eOriginal's expertise and experience in the auto and powersport industries convinced MotoLease that it had found the ideal partner to meet its ambitious goal to transform the motorcycle leasing market.
SOLUTION
The adoption of eOriginal's eSignature and its digital asset management platform was driven by MotoLease's ambition to disrupt the powersports and motorcycle leasing industry. The company further understood that this great digital leap forward would go a long way in cornering the market of consumers underserved by traditional financial institutions.
eOriginal enabled MotoLease to:
Integrate eSignature technology
Accelerate access to capital with revolving credit facilities via best-in-breed electronic vaulting services
Enhance the asset monetization process by ensuring the transparency and immutability of leasing documents that serve as collateral to MotoLease's credit facility providers
RESULTS
Thanks to the eOriginal solutions, which integrated seamlessly into its proprietary customer credit evaluation and leasing experience, MotoLease has grown exponentially.
MotoLease now owns 75 percent of the powersports and motorcycle leasing market
Its more than thousand-strong network of dealers is growing rapidly, with up to 50 new dealers joining every month
MotoLease has set a new standard by becoming the first leasing company to implement a financing concept for motorcycles
MotoLease is able to access capital more quickly, efficiently, and with full compliance. Lenders expedite due diligence through the eOriginal platform
Download full copy here.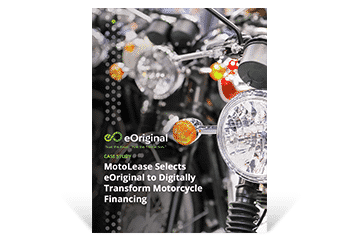 "We were the first ones to do a financing concept for powersport and motorcycle leasing and eOriginal is a perfect fit for this mission as we build trust in a new technology-driven financing ecosystem combined with our complete digital process."
– Emre Ucer, Managing Partner, MotoLease