Objectives
Fairway Independent Mortgage Corporation sought a more seamless and user-friendly loan settlement process to match its fully digital mortgage origination experience, so it launched an eClosing development initiative with the goal of making closing a fast, positive, and easy experience for both borrowers and partners.  
It initially engaged other technology partners, but discovered incomplete solutions that required significant implementation, training, and support. The solutions also proved difficult to convince Fairway's title settlement associates to use, and weren't extensible or integrable with digital mortgage eVault providers. 
Solution
Fairway selected eOriginal because it was the known market leader in eClosing technology and a true ecosystem solution pre-connected with Fairway's existing document preparation solution partner. 
As a marquee customer, Fairway served as a design partner for the development of ClosingCenter, a groundbreaking closing room software that delivers a simple and intuitive closing experience for lenders, borrowers, and settlement agents. 
Results
End-to-end adoption of eOriginal's digital mortgage solution delivers a range of important benefits for Fairway, its associates, and customers, including:
Better customer and associates experience

 

Reduced risk

 

Loan integrity and quality

 
Download full copy here.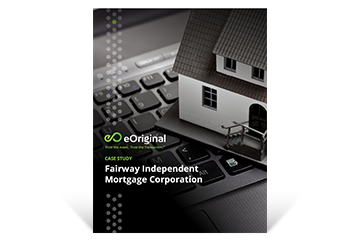 "At Fairway, the consumer experience is paramount, and our settlement agent community is a critical channel to ensuring that experience is positive, both now and well into the future. By enabling them with technology that is simple to use (no training required) and aligned to their existing processes and partners, we can truly eliminate any existing roadblocks to supporting digital mortgages. "
Terri Pansing, Vice President of Corporate Closing