The paper era is coming to an end and the rise of Digital Transaction Management (DTM) is the key catalyst. Many businesses that started with eSignatures are now looking to what happens after the signing ceremony. This means a digital shift toward advanced forms of DTM, which include the transition of electronic assets to the secondary market for securitization and collateralization.
In this new digital race, the key word is "transformation". Particularly in the financial services world, we are seeing a process shift and culture change rather than a focus on implementation. Adopters are now looking at how digital can be used to speed up the overall business and business process.
A Digital Convergence
There are compelling forces that are converging to create a competitive digital necessity. These forces include:
Disruptive financial alternatives, like marketplace lending
Mobile and social driving "now" processing across the transaction lifecycle
Digital preferences from trading partners who are increasingly discriminating against non-digital players
Compliance driving real time data vs. static and single trusted point of access to data and documents
Risk management and the demand for "full chain of digital custody
Securitization is on the rise and used in more industries driving eAsset® Management
The Desire for Faster Outcomes
Emerging technologies now have a higher rate of adoption, enhanced ease of integration and app utilization. As a result, key themes surrounding the desire for faster outcomes are prevalent:
Speed is critical and expected
Consumer decisions are made within minutes
Lost business: Act or it's a missed opportunity
It's no longer just the execution speed, but it's the complete through-put of the transaction with multiple players and partners
Marketplace Lending Sets the Digital Lending Stage
Marketplace Lending, as well as the institutionalization process within Peer-2-Peer, is at the epicenter of several compelling forces that are joining to motivate greater adoption of digital lending technology within the online lending community and across the broader financial services section.
Traditional lenders want the highly efficient platforms that online lenders have, conversely, online lenders want the access to lower cost capital, with the large networks of borrowers that traditional lenders already have access to. As we get closer to the finish line in the race to DTM, we anticipate that the difference between online and offline lending will be indiscernible and in the future, the talk with regard to online or digital lending—it will simply be referred to as "lending".
Building the Business Case for Digital Transformation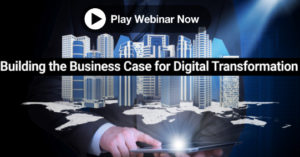 The argument to adopt Digital Transaction Management has never been stronger and is an imperative. As the trusted expert in DTM, eOriginal is dedicated to helping businesses win the digital race. If you missed our recent webinar, Building the Business Case for Digital Transformation, we've included the recording. If you were able to join our online event, thank you for joining us and we hope the panelists provided you with valuable insights to build a strong business case for digital transformation!