Auto Finance Summit 2020 was all-virtual this year, a format made necessary by the Covid-19 pandemic. But the event reflected the digital trends prevailing right now in the auto finance industry.
While an online-only approach might have felt unfamiliar, it proved to be a surprisingly intimate experience, with easy access to rich content, enhanced features and personal interactions. And that reality holds lessons for digitized auto finance.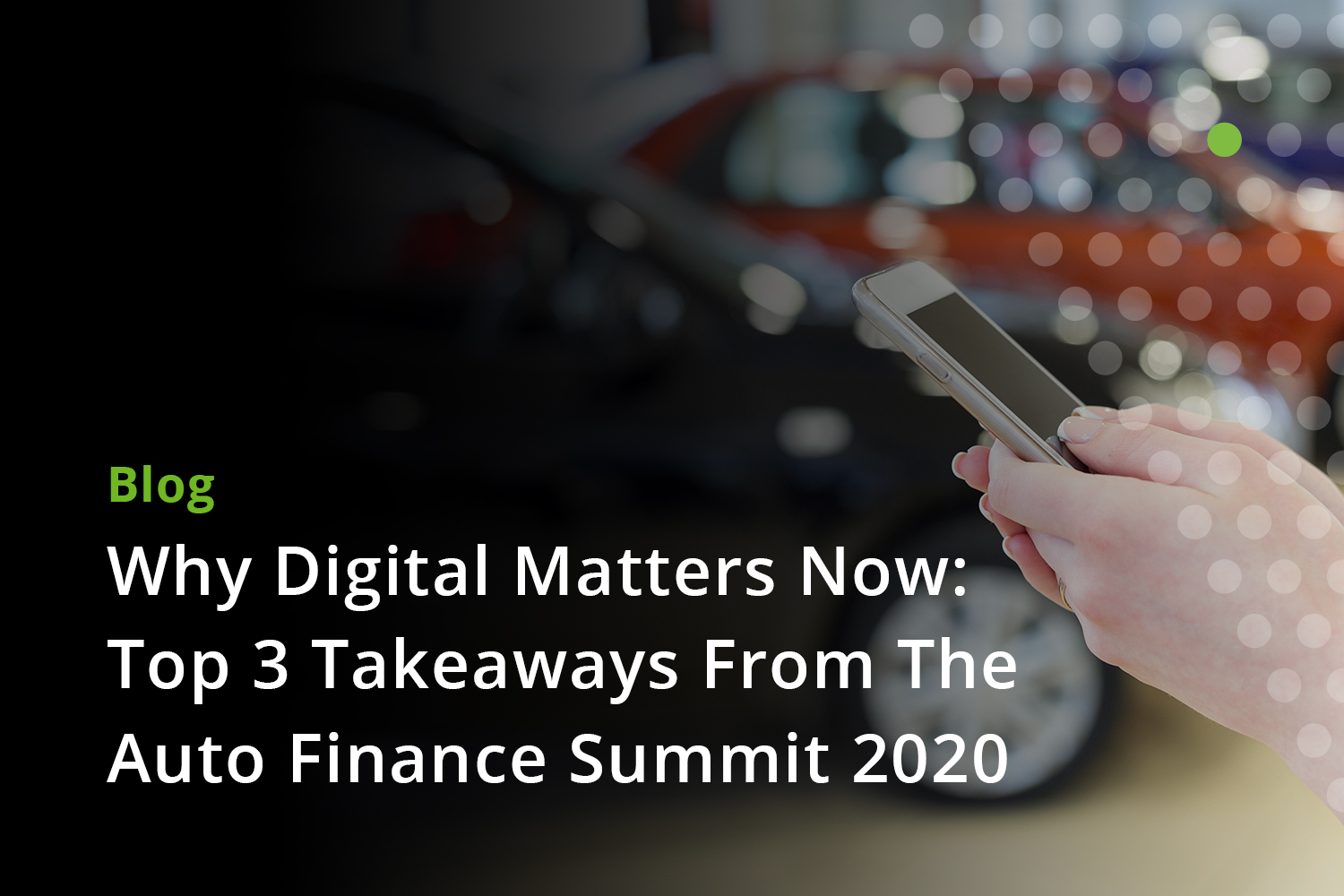 Forward-looking industry participants who embrace the digital future can benefit in numerous ways – including new opportunities to streamline processes, provide better services, deliver enriched customer experiences and realize higher revenues.
With those goals in mind, the Summit offered three key digital takeaways for auto lenders and dealers alike:
1. Economic challenges are driving digital opportunities.
Covid-19 has threatened the economy and interrupted auto lending processes, but the industry can find ways to thrive. That was the message of an informative breakout session with Wolters Kluwer, "3 Key Lessons for Auto Lenders From 2020." Those lessons emerged in the areas of auto titling, repossessions and consumer behaviors.
The pandemic is demanding a digitized response to unexpected changes in market requirements and consumer behaviors. Why? Because many manual processes failed their stress tests.
DMV closures led to lengthy delays and ad-hoc procedures. Jurisdictions grew more stringent in their rules. Borrowers are reluctant to visit DMVs in person, which is having a negative impact on lien perfection. As a consequence, lenders face greater risks for out-of-compliance titling. These realities will continue in 2021 and could worsen if states need to further lock down operations.
What's more, a strong economy in 2019 led to overextended borrowers. Repossessions rose in early 2020 but were halted as states and lenders issued reprieves, leaving many repossessions in the pipeline. In the meantime, some borrowers view their vehicles as less essential in our new work-from-home era, leading to higher default rates. As a result, repossessions could rise 30 percent in 2021, while lenders operate with smaller teams.
Finally, borrowers are taking advantage of lower interest rates to refinance. But many banks are struggling to handle the increased volume. At the same time, homebound borrowers are more likely to seek low rates from online lenders, disrupting established bank relationships.
The answers to these challenges are digitized processes that compete with online lenders, respond quickly to changing requirements and scale rapidly to accommodate unexpected demands. Digitized tools enable banks and dealers to avoid manual errors, handle greater volume without adding staff, and deliver the online-only experiences customers now expect.
2. Digital financing is ramping up.
Digitization of the auto finance and insurance (F&I) process has been an emerging trend. Covid-19 has significantly accelerated those digitization efforts. That was the upshot of "Uncertain Times Create Opportunity: Strategies to Help Dealers Boost F&I Revenue," presented by Ally Financial.
Dealers will face complex headwinds in 2021: Financial stimulus will end, deferred consumer payments will come due and lenders will do more verification. But there are encouraging tailwinds: Vehicle production is revving up, interest rates remain low and the auto sales outlook is strong.
Because new supply is still on the low side, used-car values are rising, decreasing consumer interest in guaranteed asset protection (GAP) contracts. At the same time, consumers want to keep their cars on the road longer, so vehicle service contracts are picking up.
Most significant, consumers are completing more of the buying journey online – from researching options to selecting vehicles to choosing F&I products. Dealers need to respond by adapting their processes accordingly. Yet many have been reluctant, because they build their success around process, and they fear they'll lose volume or margin.
But Ally reports that dealers who lean into digital change are achieving positive results. One dealer took its wholesale and F&I processes entirely online to achieve 250% of its minimum sales requirement in 2020. Another sold as many vehicles in May 2020 as it did in May 2019 – even though its physical showroom was closed – by digitizing processes.
3. The secondary market is surging.
Current economic realities haven't hampered auto-related asset-backed securities (ABS). That was according to "The Impact of Covid-19 on U.S. Auto-Related ABS," presented by S&P Global Ratings.
In fact, collateral losses for prime auto ABS have fallen to an eight-year low. There are several reasons for this surprising development in the three auto ABS areas: auto loans, auto leases and dealer floor plan financing.
In auto loans, Covid-19 drove an increase in extensions, which suppressed delinquencies and losses. Issuance is down, but the market remains vibrant – not at all like the market following the 2008 economic downturn.
Auto leases experienced a brief reduction in residual values. But those numbers have recovered, with most deals reporting residual gains. Issuance in this sector is down only slightly.
Dealer floor plan loans are those a captive auto finance company makes to dealers to finance vehicle inventory. When the Covid-19 crisis hit, payment rates on these loans plummeted, but they're returning to pre-pandemic levels.
In total, auto ABS volume is down a bit compared to 2019. But auto sales and originations are also down, so that's to be expected. Overall, the auto ABS market is operating efficiently and effectively, and investor appetite for auto ABS remains strong. This promising outlook makes 2021 a good time for banks to digitize the securitization process – and gain a competitive advantage in the monetization of auto loans.
This year's Auto Finance Summit was different from what came before. That's true for the entire auto lending landscape. And 2021 promises further change. That's why digitization has become such an imperative. The more lenders and dealers can digitize their processes end to end, the greater their ability to adapt each process step in response to whatever is in store for the future of auto lending.