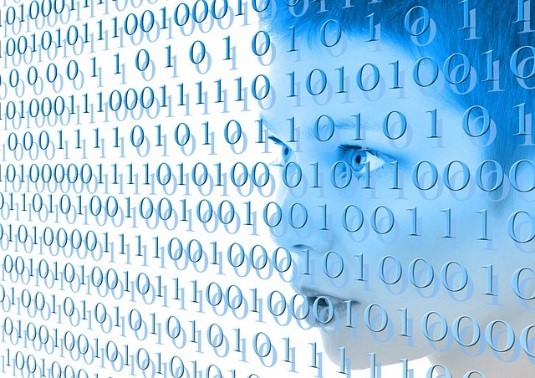 With trends including data security, the Internet of Things, technology-enabled integrated security systems and the emergence of DIY security companies, the security alarm industry knows that changes are coming; they just don't know exactly what those changes entail.
In the Electronic Security Association's July/August 2015 Security Nation publication, the association asked the question:
What's next for the Electronic Security Industry?
Without hesitation, the answer to this question should include Digital Transaction Management (DTM). While security customers tend to be an older and more affluent demographic, they are increasingly online and experiencing digital interactions just like younger generations. Security alarm businesses are catching on to the trend and have begun exploring the benefits, and perceiving obstacles, of DTM.
As part of the "Ask the Attorney" section of the publication, in looking at what's next, Wendy Carlisle, an attorney who represents alarm companies through her law firm, Carlisle Law, LLC, was posed the question, "I'd like to go paperless. If I have my client sign the contract electronically, is that valid?"
We love that Wendy highlights the digital transformation of the industry, providing a valuable overview of the legality of eSignature technology. However, as the digital transaction experts, we can't help ourselves and thought it would provide a great platform to dive into the subject a little further – addressing the importance of why the industry needs both electronic signing and digital management of assets (a.k.a post-signature contracts).
Wendy's response: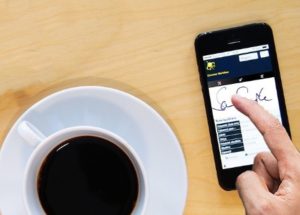 Yes, electronic signatures are valid. The laws, E-SIGN and UETA, require that the signature be attributable to the customer. That is, the signature is valid even if it is electronic, but you must still be able to show that it was the customer who signed and not someone else who didn't have authority to sign. Here is what the UETA says:
"An electronic record or electronic signature is attributable to a person if it was the act of the person. The act of the person may be shown in any manner, including a showing of the efficacy of any security procedure applied to determine the person to which the electronic record or electronic signature was attributable."
So, if your customers are signing via iPad, or other portable electronic device, you can prove it is the customer's signature in any manner, including your security procedures. That gives you a lot of leeway to craft your own procedures, such as writing down the license or ID number or taking a photo of the customer's driver's license or ID card.
In conjunction with these security procedures, you need your customer's signed consent for the electronic contract and electronic signature, which also states that the customer is providing a driver's license/ID card or photo while signing as proof that the contract is attributable to him or her. (ESA Security Nation – July/August 2015, page 13).
Visit the ESA Website to gain access to this article in depth, as well as all of their member publications, like Security Nation (member only access).

DTM Capabilities for Security Companies
Digitally transforming your company can empower more than just ease-of-use to your customers with eSignature functionality.
Many security companies shy away from contract digitization because of their complex, after-signature processes. It's errantly viewed that e-signing ends at the signature and has no accommodation for post-signature requirements. Many security companies need to pool and collateralize their contracts, or resell the contracts to security service providers.
Contracts represent future obligations for payment and are considered assets as they represent monetary value that can be owned, sold and transferred. When these assets are digitized, they assume all the benefits of electronic form. Given the criticality of contracts as manifestations of RMR, security companies should seek to protect and optimize their contracts.
Digital signing functionality is just the first step. A complete DTM solution embraces new concepts of control, transfer, legality and certainty – all of which are essential when taking your processes digital.
That's why it is imperative  that when you implement an eSignature solution to ensure that it is not only UETA and ESIGN compliant, but can be paired with a robust, end-to-end asset management system – meeting all of your needs for the lifetime of your contract.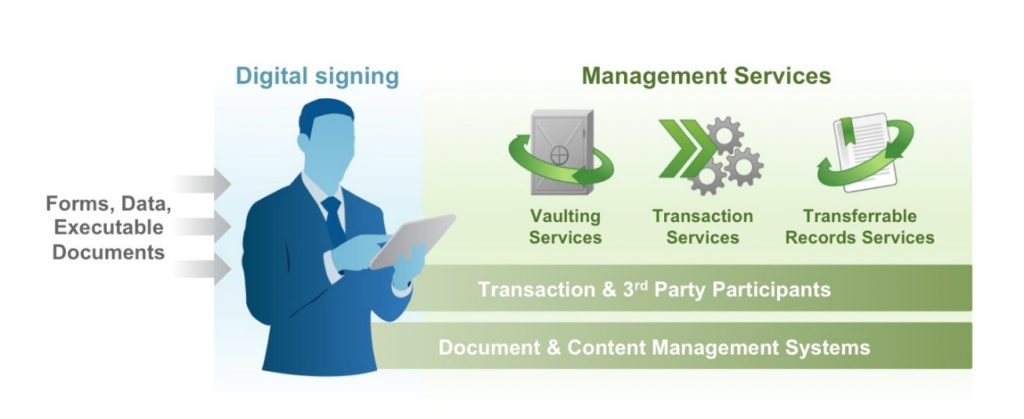 DTM in Action: Download Free White Paper
Want to learn how to enable digital asset management and go beyond simple eSignature solutions? To help your business learn about the importance of DTM and overcome perceived obstacles, we have released a white paper for the security alarm industry. The white paper features two case studies from top national security companies, who after implementation, were able to securely sign and manage their eContracts with DTM.
Download your free copy of the white paper today:

eOriginal is a proud Electronic Security Association (ESA) member.