A dominating theme throughout the conversations in my day-to-day interactions with the Marketplace Lending (MPL) industry is the need for greater transparency. This topic has been the subject of countless news articles, and most recently the focus of the Treasury Department's white paper, Opportunities and Challenges in Online Marketplace Lending. Coincidentally, I guested on a panel at the Marketplace Lending + Investing event last week in New York on the very same subject.
As eOriginal's President and CEO, Stephen Bisbee mentioned earlier this year, "Marketplace lenders should be seeking to adopt the processes and technology that adheres to best practices to alleviate concerns with legality and transparency regarding not only the documentation, but the data used to create the documentation and represent the loan elements to investors and regulators."
Seemingly th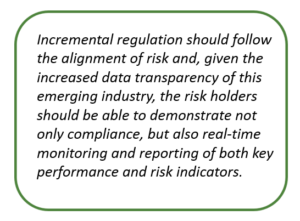 ere's a consensus across digital lending for more transparency, especially between originators and investors, but also between originators and regulators. When I listen to people express their view on the subject, in most cases, what I think they really mean is consistency. A consistent use of a technology that will allow a greater level of industry uniformity or "standard".
The Digital Hammer: Enhanced Regulatory Involvement
The Treasury defines transparency to mean clear, simple, and consistent terms that borrowers and investors can understand. In addition, they recommend the creation of a publicly-available, private sector-driven registry for tracking data on transactions, including the issuance of notes, securitizations, and loan-level performance.
Here are the top four benchmarks the Treasury would like the sector to adopt:
Standardized representations, warranties, and enforcement mechanisms;
Consistent reporting standards for loan origination data that includes ongoing portfolio performance analysis;
Loan securitization performance transparency; and,
Consistent market-driven pricing methodology standards.[i]
We responded to the Treasury's original request for information as the Opportunities and Challenges white paper was being researched, eOriginal noted:
Incremental regulation should follow the alignment of risk and, given the increased data transparency of this emerging industry, the risk holders should be able to demonstrate not only compliance, but also real-time monitoring and reporting of both key performance and risk indicators. This increased and real-time monitoring should be available to potential buyers. Potential findings or regulations pose an additional risk if the "originate to distribute" third-party bank model is deemed unsound or unsatisfactory.
Marketplace Lending Event: The Word on the Street…
During my panel at Marketplace Lending + Investing, I joined Roger Barba, Technology Editor at American Banker, along with Charlie Moore, Chief Commercial Officer at Global Debt Registry and Perry Rahbar, Founder and CEO of dv01. We discussed the need for consistent reporting standards for loan origination data, portfolio performance, securitization performance and transparency as being adopted as a new standard operating procedure for all marketplace lenders.
Our audience included current originators, investors, thought leaders, and potential new industry entrants and new investors. Among them were also several representatives from asset classes that have not yet benefited from MPL innovation.
I observed many good ideas and comments on the potential outcome and consequences of further regulatory involvement, charter and oversight at the event. Across the board, a general belief that the recent formation of industry associations will help with the alignment of technology and future regulations.
Digital Technology: Knowledge is Key
On the regulatory side, it was clear that there is a thirst for information. Basically, a need to educate regulators on the technology and culture so that laws won't be passed that may limit or prevent technology innovation.
Although the conference was brief, the panels represented nearly every viewpoint in the industry. In summary, transparency is crucial to alleviate concerns and enhance confidence in the growing MPL space.
eOriginal's eAsset® Management solution delivers unprecedented transparency into the assets being purchased, their legal chain of custody and a complete audit trail and metadata. It is already helping to provide this type of process consistency to several FinTech players, including Lending Club, Payoff, SoFi, Funding Circle, Apple Pie Capital, Dealstruck, and LendKey, to name just a few.  In addition, we are committed to helping educate the industry on the role of technology in providing unprecedented transparency, industry education and providing our eAsset® Management Solution that is industry-recognized for delivering unprecedented transparency into the assets being purchased,
For marketplace lending to continue to flourish, players need to adopt software that provides consistency and meets the adoption standards of regulatory groups like the Treasury. The industry has too much promise to be plagued by doubt, especially when technology can enhance confidence and provide the transparency required by regulators, investors and originators.