"There's not a moment to lose in the game."
While Dave Matthews – keynote speaker at DocuSign Momentum 2019 – was probably not singing about the adoption of digital transformation in the song "You Never Know," he certainly could have been.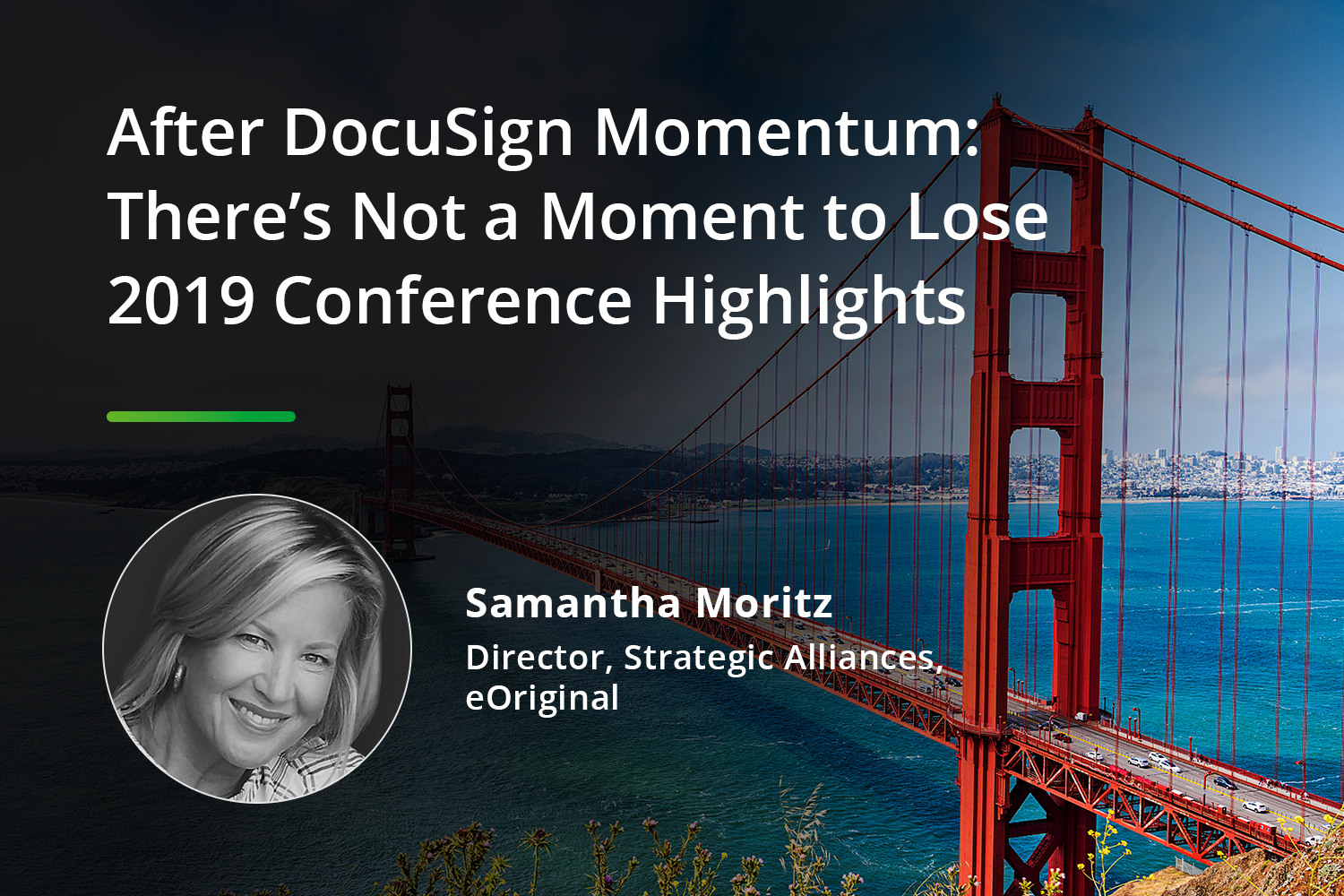 Digital transformation and digital lending are no longer new topics. Lenders, banks, and financial services are running out of time to be part of the changing industry. Indeed, the digital lending economy has arrived, and there are few better visual examples than the growing number of financial services companies that visited with eOriginal at DocuSign Momentum last month.
I've been covering the subject for more than 10 years with innovator and digital lending expert eOriginal.  I started with eOriginal before the 2008 financial crisis and have had the privilege of watching many companies – from small mom-and-pop lenders to big banks – work with eOriginal and DocuSign to digitally transform their lending processes.
It has been a privilege to manage our partnership with DocuSign over the years, especially our participation and support of DocuSign's annual customer conference, Momentum, which eOriginal again sponsored and attended this past June.  I remember some of their first customer conferences in Seattle with only a few tables set up in a conference room at the Lowes Hotel 1000.  It has been a great journey.
Each year, in collaboration with eOriginal' s marketing team, I put pen to paper and commemorated the previous year through observations in the industry, trends, and what to expect in the coming year, specifically around the Momentum conference.  In the past, I have tried to creatively combine pop culture, news, politics, and significant guests of the conference.  Back in 2015, I tipped my hat to my favorite late night show, SNL, on their 40th anniversary.  While I took some time to vote for my favorite SNL comedian, Eddie Murphy, the main point of the blog was to promote teamwork and collaboration, two fundamental skills for a successful partnership.
Right before the last presidential election, I compared the three key topics: economic vision, jobs and wages; security to the strengths of our joint value to our customers; as well as the substantial results of digital transformation.  Whatever the topic, there have been many reasons over the years to "DocuLove" the Momentum Conference.
It's hard to pick the best out of so many wonderful memories. However, the ones we made this year may have topped them all. Besides being a dynamic event with more technology previews than ever before, Momentum 2019 also enabled clients to better understand how to work with partners like eOriginal to build a full System of Agreement. You can see it on full display on the DocuSign Momentum main stage.
As exciting as the growing integrations and functionality are to hear about, Dave Matthew's appearance and performance was the highlight of the event. As a long-time governing council member for The Wilderness Society, Matthews was a natural choice as the public face of the DocuSign for Forest program.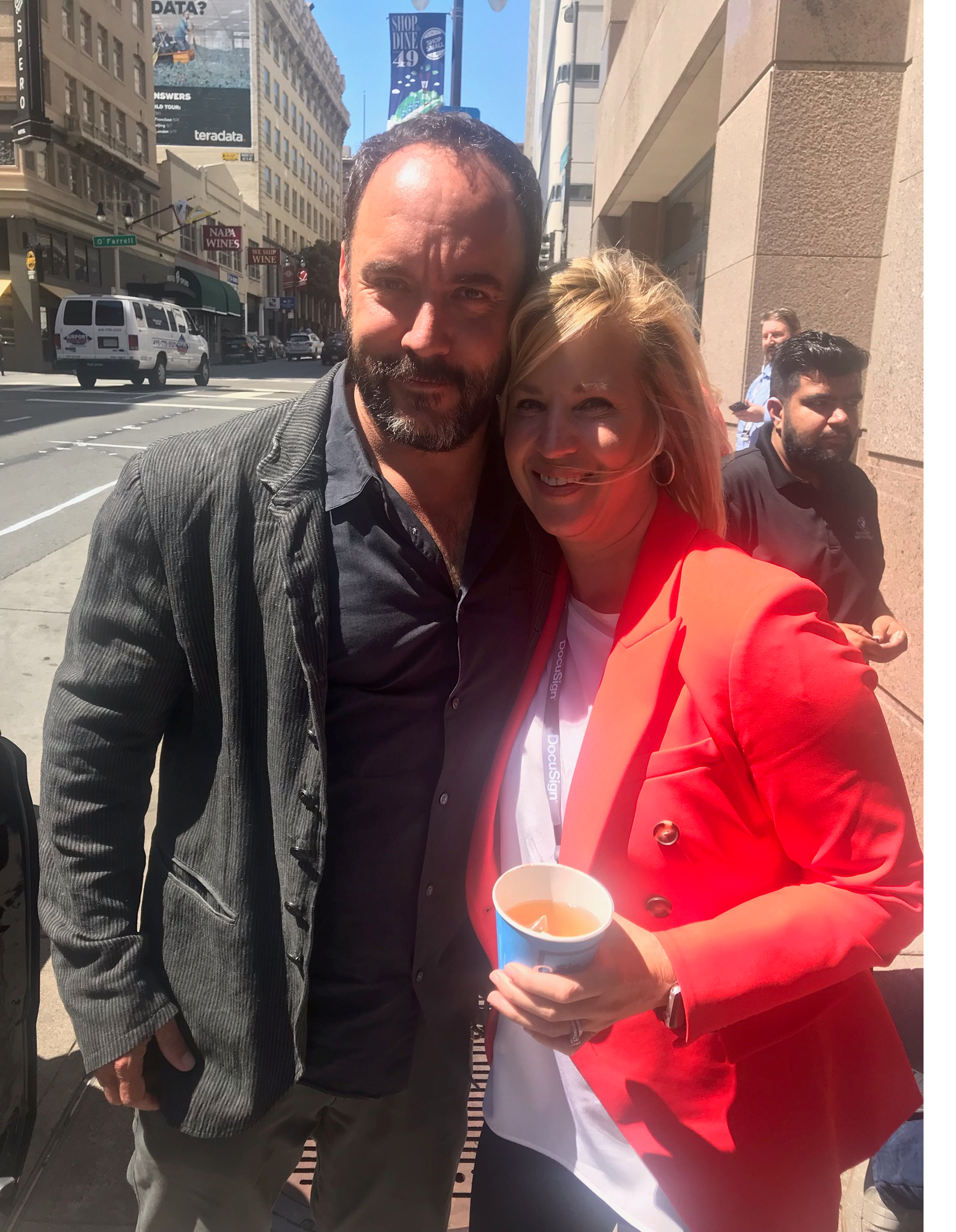 With Jamie Williams, president of The Wilderness Society, at his side, he spoke passionately about the importance of nature in our lives and the need to better protect it.
And then he sang.
With "Don't Drink the Water" and a couple of other memorable hits, he enthralled the crowd and got hundreds of fans to sing along with him. Believe it or not, I was even able to grab a quick photo with him before he rushed away.  Not only is he a super talented advocate for Mother Earth, but also is a heck of a nice guy too.
It is hard to imagine DocuSign topping this year's event, but you know they are hard at work right now trying to do just that.
With each passing year, the number of financial and banking customers grows, as do the use cases which seem to cross-pollinate various industries (maybe the subject of next year's Momentum blog).  The abundance of high-quality partners, customers, and executives at the Momentum conference provide for a great opportunity to learn how to accelerate your digital transformation from the true "voice of the customer" experience.
See you at next year's Momentum!
Interested in keeping your digital Momentum and integrating your DocuSign with eOriginal? Schedule a meeting today!