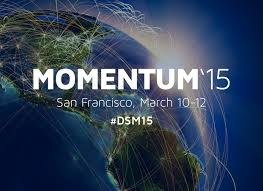 Fresh off of the plane from San Francisco last Friday, just in time for St Patrick's Day weekend, I couldn't help but think about how lucky I was to have experienced my first MOMENTUM.  As I began to reflect on my time on the West Coast, I kept coming back to the amazing people with whom I had just spent the last week.  Seeing as my biggest goal prior to MOMENTUM was to develop and nurture relationships, I'd say the event was a huge success with our DocuSign partners, current and prospective customers, as well as my eOriginal colleagues.
The growth DocuSign has experienced in the last year is monumental, and a testament to all that they have accomplished in the eSignature world.  You could really tell that eOriginal's brand awareness is flourishing. Our eAsset® Management Services that we bring to the table were the talk of the town with DocuSign's newest employees.
At MOMENTUM,  eOriginal was stationed front and center within the Partner Pavilion, right behind the Tesla display. Our prominent location encouraged a continual stream of DocuSign representatives to stop by, many of which were greeting us by saying things like, "I've heard about you, I think you can help me with…"  It was encouraging to have the representatives recognize our company name, and stop by eager to learn more.  As I would explain our offerings and their advantages to them, many representatives had accounts come right to mind on which they wanted to include us.  I couldn't discuss our DocuSign relationship without giving a shout out to Bill White, Technical CS Manager – Partner Accounts of DocuSign, who made us feel more like family than channel partners.
One element that became clear as soon as our CEO and President Stephen Bisbee began his first panel with John Willman, Treasurer and Vice President of Mortgage Services of Westgate Resorts, and Russ Ramski, Vice President of Business Development of Informa Software, was the amount of support we have from both customers and partners.  This fact was only magnified during the second breakout session with Dominic Liberatore, Deputy Chief Counsel of De Lage Landen Financial, and Renee Gubler, Business Analyst, and Imran Mussani, Program Manager, of Eaglemark Savings Bank.
Their willingness to step up and join Stephen on these panels proves that once you understand and appreciate the service offerings of eOriginal, you become an enthusiastic supporter that believes in the solution and wants to help spread the message.  MOMENTUM wouldn't have been as successful without the passion of our current customers and existing DocuSign partners who already see the effects digital transaction management can have on a business.  Their testimonials are what it's all about, and it was moving to hear them speak about eOriginal so highly.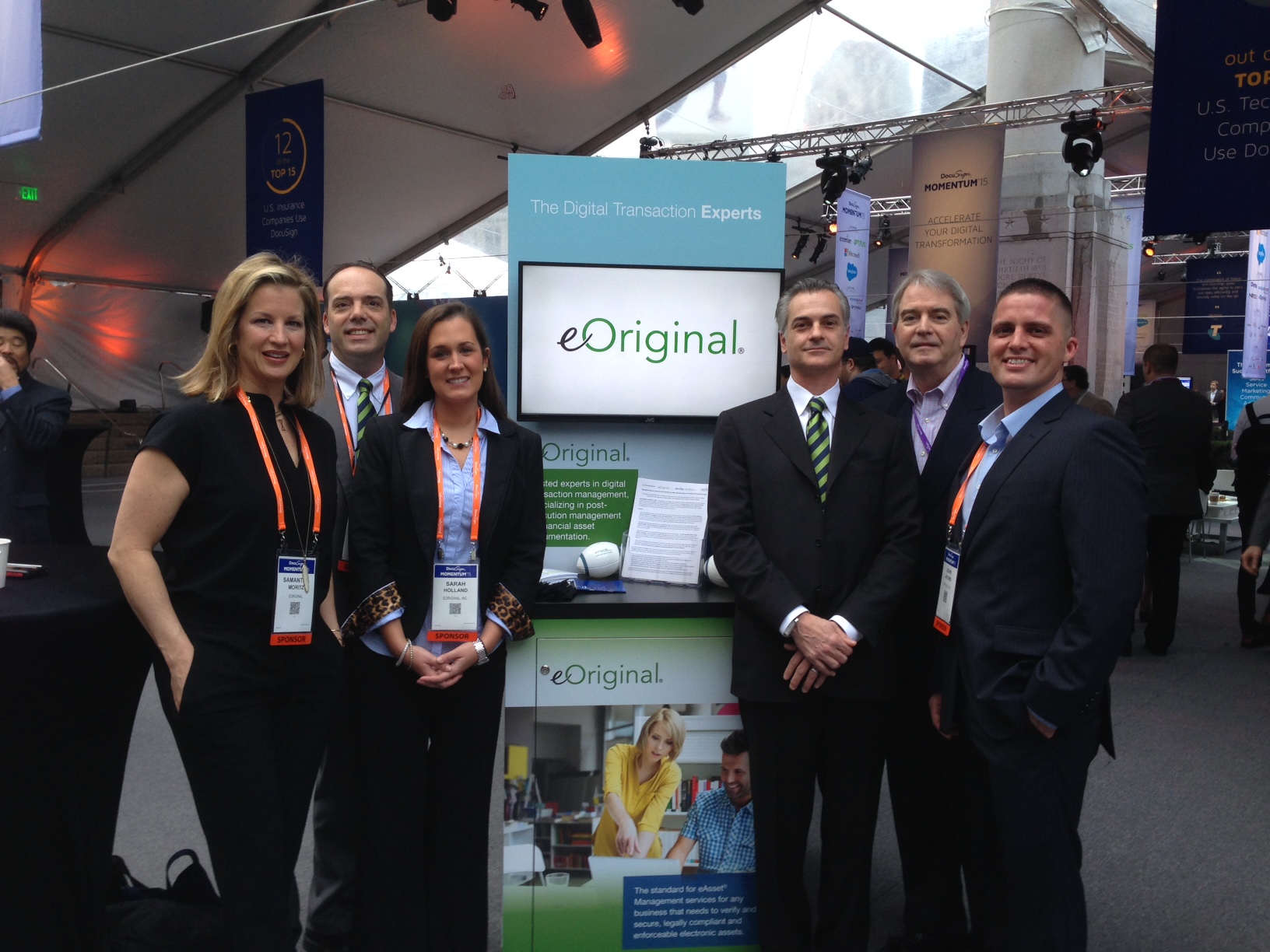 Last, but not least, getting closer to my eOriginal colleagues was an inevitable result of MOMENTUM.  I had an amazing time with every one of my co-workers during the trip.  This was my first time needing to explain the eOriginal value proposition to outside customers and partners, and the support and encouragement they provided made me feel much more comfortable with this process.  You are really forced to come out of your shell when you are at a business travel event; and I feel like I know all of my co-workers much better, especially after seeing their dance moves at Ruby Sky during one of the MOMENTUM parties.  One thing I think we all would agree on is that we'll have to go to a local karaoke bar to make up for the one we were too tired to find in San Fran!
I feel extremely lucky to have had the opportunity to explore San Francisco for the first time.  The city was even greater than I imagined and I'm so grateful to have had the chance to attend MOMENTUM.  We might not have used the selfie stick as much as we planned during our travels and at the conference, but I think we can all agree the week was a huge success.