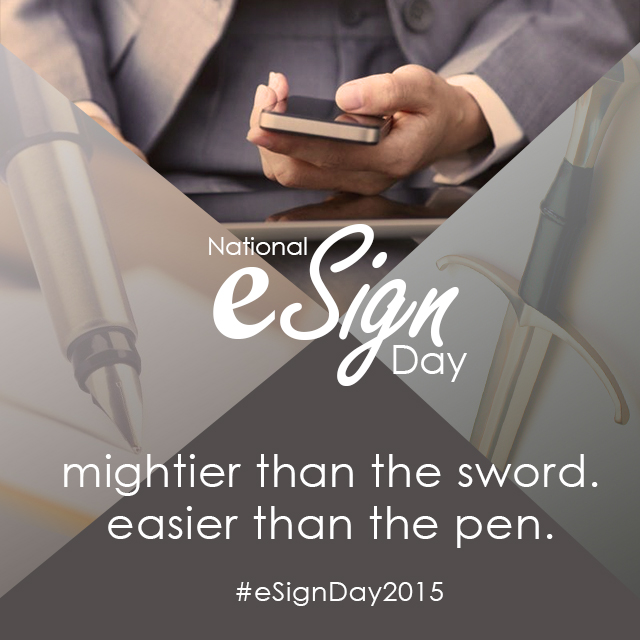 Over the past 15 years, the physicality of digital signature technology and the action of eSigning a contract has significantly transformed. As we anticipate the celebration of the 15th Anniversary of the ESIGN Act tomorrow, we think back on how far the technology has come.
An eSignature is no longer about the physical signature of your first and last name, but rather the execution of the contract within the signing ceremony. What once was executed using your finger or a signing tablet and stylus has grown into so much more. This puts an intrinsic value on the signing ceremony as the act of signing rather than the signature.
At the end of January, we announced that we had expanded our position in digital transformation with the issuance of a multimedia eSignature capture patent for processes to create authenticated, fully electronic agreements utilizing signatures consisting of voice, video or photo files, thumbprints, eye scans, palm prints, biometric signature data, and more.
The use of biometric and multimedia data allows eSignature to become so much more than was ever imagined 15 years ago when President Clinton signed the ESIGN Act. Not only does the option to utilize this data allow digital documents to be more secure, but it is paving the way for the next generation of technology-driven efficiencies and security.
Should a contract require the need for a thumbprint, voice, or photo, the signer no longer has to travel to a signing room. Contracts can be signed anywhere and at any time. Plus, it provides a greater level of proof and peace-of-mind should a contract be taken to court. A thumbprint or photo of a person signing provides definitive proof that the person who signed a contract is who they say they are.
We look forward to the future of the eSignature. Stay tuned tomorrow for a blog commemorating the 15th anniversary of the ESIGN Act.