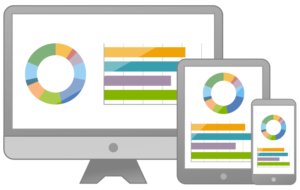 Over the past decade, the importance of data, or more commonly termed Big Data, has emerged across the business world, particularly in the technology and financial services sectors. Big data requires exceptional technologies to efficiently process large quantities of data within tolerable elapsed times – and once processed, businesses must be able to understand and utilize the data for their business intelligence.
While data can be useful when evaluating overarching business initiatives or capturing essential customer data, the need for capturing and analyzing full datasets is becoming more and more critical for nearly all day-to-day business operations.
Increasing Regulator Presence and Need for Data
As we have heard over and over again this week at ABS East in Miami, within the financial services, including mortgage, automotive finance, student lending and other essential lending industries, businesses are becoming increasingly concerned with the growing audit and regulator presence.
To respond to this presence, lenders are having to develop custom, ad hoc, but static reports, even at the senior level. For most businesses, this data is currently in multiple silos, limiting the ability to analyze the full dataset of the loan process – resulting in the use of unnecessary time, money and resources.
Nevertheless, regulators want to see that lenders can demonstrate a tight handle on asset-level loan data. Just as an example, the following current and anticipated regulations emphasis the importance of asset-level data:
Fair Lending Act
Real Estate Settlement Procedures Act
Truth in Lending Act – Reg Z
Home Mortgage Disclosure Act – Reg C
Unfair, Deceptive or Abusive Acts or Practices – Reg AA
Reg A&B (2017)
Not only will access to this data satisfy the growing regulatory concerns, but lenders can begin to utilize the data to build reputational trust with prospective buyers of securitization asset pools.
Why it Matters
Businesses across industries are being issued fines as a result of the mismanagement of their data. Recently a leading lender was fined by the Consumer Financial Protection Bureau for not properly tracking APR rates by race and gender.
During a recent audit, auditors found that the lender was providing significantly better APR rates to people of Caucasian race versus those of Hispanic race.
Luckily, multi-million dollar mistakes can easily be rectified for the future. Although unintentional, this could have been prevented if the business put in a threshold notification system segmented by gender and race to notify the business when the APR rates hit a certain rate ceiling; ensuring that the business never missed an irregularity in the data.
Welcome to

So, how do you set up these notifications to protect your business?
Earlier this week, we released DatalyticsTM – a real-time robust asset-level auditing and compliance solution that allows users to quickly respond to audit requests and prevent errors and resubmissions.
The new monitoring and reporting solution allows for ongoing monitoring of compliance with bank-specific policies and provides the asset-level data that will be required under REG AB.
This enables a full chain of custody across the loan process at the asset-level, which will provide an unprecedented level of insight and due diligence while saving time, reducing risk and decreasing costs.
What this Means for the Future
The emergence of marketplace lending and other disruptive financial industries has altered the landscape for all of financial services. With the significant projected growth model of the marketplace lending industry, lenders need to prepare themselves for increased regulator and audit requirements that are expected to come.
It is no longer acceptable for businesses to track just a portion of their data. For compliance, audit and operation needs, businesses must be able to slice and dice the data to drill down as far as they need to, staying at the metadata, audit trail or document level.
Whether in mortgage, auto or one of the other lending spaces, capturing data will enable lenders to engage in ongoing monitoring or build out reports that can be sent to outside auditors. Digital processes will ensure information is captured at every stage: from the buyer and sellers' interactions with contract documents to disclosure and closing – empowering more secure and confident post-closing activities, such as warehousing lending, secondary investing, loan servicing and custodian involvement.