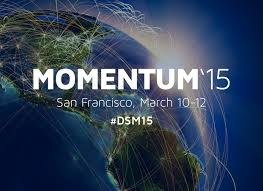 You can't help but notice there's a buzz around this place.  The level of excitement in the atmosphere is no doubt tied to our preparations for DocuSign MOMENTUM 2015.
As eOriginal continues to grow, so have our various Alliances. Naturally, this includes our longstanding partnership with DocuSign, which has grown into a source of pride for both companies. Moreover, we are ready to enhance our relationships with all of our partners to make 2015 a groundbreaking year in Digital Transaction Management.
This is the first Momentum I will be attending and I am looking forward to strengthening our presence and establishing relationships with as many people and companies as I can.  I believe the eAsset® Management solution we offer together with DocuSign is unique. As part of my Momentum experience, I want to ensure companies that haven't heard of us know our product exists and are aware of how integral it is to electronically maintaining assets.  I am also excited to meet members from DocuSign that I only know by voice from phone conversations.  As strong as the DocuSign/eOriginal connection is, there is a huge opportunity to grow.
The eOriginal team in attendance will be available to answer questions and share insights on any features of the solution. eOriginal will have a kiosk in the exhibit center, and our CEO and President Stephen Bisbee will serve as a panelist during two breakout sessions; sharing his unique insights not only on our product, but on the changing landscape of Digital Transaction Management and the shift in focus to post-signature lifecycle of a document.
Not only will this be my first time at Momentum, but it will also be my first time visiting San Francisco. As a self-proclaimed sun worshiper, I am really looking forward to taking a much-needed break from the Baltimore winter weather. This morning it was 1 degree!
So, if you are walking around the center and spot our kiosk, please stop by. Whether you have a question or simply want to get to know us better, we would love to meet with you.  And the best part of all, we will have our very own selfie stick and slideshow of pictures from the event running throughout the conference.
It doesn't get much better than that.