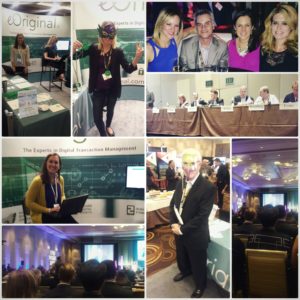 Last week the eOriginal team touched down in Las Vegas for the annual IMN Structured Finance Industry Group Conference at the Aria Hotel. With over 6,000 attendees, numerous informational sessions with passionate speakers and an overabundance of networking festivities, the conference was a huge success.
eOriginal participated in one of the networking events that very relevantly featured a Mardi Gras theme in the exhibit hall. After sharing our expertise and discussing digital transaction management all day, it was a nice event to let loose and have a little fun.
Event Insights: An Industry of Experts
One of my key observations during the event is that it doesn't matter whether you are a rating agency, a marketplace lending platform, investor, issuer, a fin-serve technology provider, a securities firm, etc… this is an exciting time for all who conduct business in the financial sector.
For some players in the space, the uncertainty of digital lending practices is intimidating and the risk appears too much; however, anything in life involving a major change is scary at first, but nevertheless exciting. The structured finance industry is going through a digital transition and millennials are forcing a change to traditional industry practices and one thing is clear: you can't ignore it and wait on the sidelines, or you will be left behind.
Accept a Digital Transformation
While there are those who are refusing to accept the transformation, there are those that are embracing change and this was visible at the SFIG event. Witnessing firm reps' commitment to educating themselves and perfecting their business processes to position their organizations' success in the "Fin-Digital" marketplace was quite remarkable.
Out with the Old and in with the New
I had an opportunity to watch Joe Scarborough, Co-Host, MSNBC's Morning Joe, give the keynote speech. Here were the key-takeaways:
1.  Political history will always repeat itself,
2. Unbiased media is needed to hold leaders accountable
3. The US debt is astronomical and continues to grow, and
4. Gone are the days when FDR's social security plan was considered a good idea. Back then, when it was passed life-expectancy was 62, less than the age recipients received their first pay-out today, and at the beginning, there were 15 people working for every single social security recipient, today that ratio is 3:1 and will continue to decline.
The point being: Baby-Boomers are bankrupting us. Obviously, a huge "Debbi-Downer", and it wasn't until I sat down to write this blog that I realized it's an opportunity to turn a negative into a positive, and Joe's message for the industry was embrace change and commit to creating a better future.
We can really look at traditional funding/lending business operations, i.e.  paper contracts, iron mountain storage, custodian warehouses, overnighting… as the old "Baby-Boomer" way of operating. And just like the social security plan, it was awesome 20 years ago; it's not now. Peer-2-Peer lending, and the movement of digital lending in general, can be compared to a millennial ordering an Uber, it's quick, painless and instant gratification; however, scary at first if you've never done it, but once you try it, you are hooked.
My advice for those financial firms and investors who see digital as too intimidating and don't have confidence in the process: help define the rules. This is your opportunity to order the Uber, review and suggest changes to make it better. Embrace change, and assist in dictating best practices for the industry.
The Outlook for Securitization
Our CEO, Steve Bisbee, sat in on an informative panel that included a nice blend of opinions about new lending tactics and digital securitizations. Much like what I described above, there were those that downplayed the evolution of industry to digital and made it seem like it was just a trend, while the rest expressed their excitement, but demanded a consistent play-book for acceptance.
As for us, eOriginal is embracing the change and helping define the rules. With one of the most important rules being data verification and visibility into how electronic assets are handled. We will continue with our commitment to helping educate rating agencies on digital technology to meet their needs for best practices in digital securitization ratings and acceptance.
The Future Looks Good!
This year's SFIG event was a great success as we met with a lot of great people and were able to share our digital transaction expertise with those eager to learn. To those that have not yet made plans for what happens after the eSignature, don't wait to learn. If you are a baby boomer and you are too nervous to download that Uber app, and the idea of digital banking scares you, embrace change because the future is digital and a transformation for your organization is the best commitment you can make for success in 2017 and beyond.