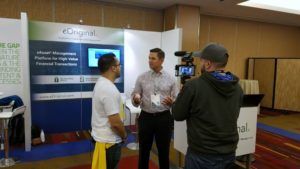 In my role as an eOriginal Senior Solution Engineer, I get the pleasure of attending several DocuSign events around the country, and each year, DocuSign Momentum, in San Francisco, always stands out as one of my favorites. Even though 2017 was only my second year attending DocuSign's annual user conference, it continues to get better and better!
As an event sponsor and long-time partner, eOriginal represented at its best! We had a prime-time spot at the partner exhibit hall (now called the "Partner Pavilion"), which enabled us to promote our joint solution with new potential customers. We also hosted several critical meetings with key customers and had the chance to participate in eOriginal's first ever (optional) team building SoulCycle spinning class—there's nothing like a good sweat at 6 a.m. to get the blood flowing before standing on your feet for 10 hours!
We Even Finish Each Other's Digital Transactions!
One of the great change-ups DocuSign did this year was the configuration of the Partner Pavilion. Instead of having it outside in the middle of Union Square, DocuSign moved the pavilion inside, and made it more interactive. The new set-up included a side stage speaking area and meals in-between sessions, which really enticed customers/attendees to stick around towards the end of the day with drinks and hors d'oeuvres! With a great flow of traffic and meeting space, it's safe to say the revamp was a hit and well received by customers and prospects alike.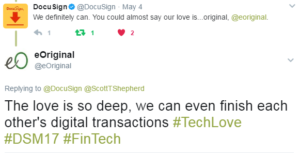 Another thing DocuSign added to this year's agenda was a live Twitter feed of all the partners at the Partner Pavilion, and I had the pleasure to participate in a live interview. I promoted DocuSign and eOriginal's infectious relationship for each other by articulating the value our customers gain by implementing the joint solution to keep assets digital post-execution.
Speaking of social media, eOriginal and DocuSign had a hilarious "Tweet-off" (if you will) that was broadcast on the big screen at the event dinner.
Team Building with a Spin
Our amazing Alliance Manager, Samantha Moritz, came up with the brilliant idea to infuse team building and working out, and even though I had taken a cycling class before, there is nothing like SoulCycle—think of it like a spin class on steroids. Even though the entire team couldn't participate, those who attended felt the vibe at the end of 50 minutes of non-stop spinning. And who knows, it probably brought us closer together—isn't that what "team building" is all about?
On the business front, we did a ton of time with our second family, the DocuSign team—both at the show and into the evening. With eOriginal being based on the East Coast and DocuSign on the West, we cherish these kinds of events to bond with those we talk to on the phone day-in and day-out. Also, I think it's a huge win for the customers to have everyone in the room together to cohesively discuss and display the overall value our joint solution provides to the them.
Inspiration. Knowledge. Transformation.
It was a very full, but remarkable, two-day event, focusing on the full end-to-end digital transformation of the financial services space, industry insights, connections and meeting with clients and prospects. Thank you, DocuSign, for another fantastic conference—we're already counting down the days until Momentum 2018!