As with so many aspects of our world today, the future of securitization is digital, and at eOriginal, we believe the first step in the transition process is education. Today, digital software users have the ability to move assets to the secondary market electronically—securely storing, pledging, or securitizing through technology. With the right technology, digital securitization can be a competitive asset.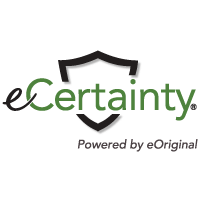 eOriginal's new white paper, Creating Securitization eCertainty® in the Secondary Market, addresses the opportunities that exist through the use of evolving financial technology solutions, while taking a deep dive into the barriers of adopting as it relates to confidence and risk mitigation. Confusion and questions still exist in the management of electronic transactions, and the standardization of asset pools through Digital Transaction Management (DTM).
Why is Securitization Important?
By taking the securitization process digital, confidence in the process increases due to the strict contract handling requirements in place at every step. In addition, risk is reduced and auditability is increased, to provide all partners with the comfort that investor-owned loan documents will meet funder requirements with verifiable security, compliance and authenticity.
An end-to-end DTM solution, as described in our new white paper, provides confidence and certainty throughout the lifecycle of an electronic asset, giving heightened transparency and real-time data across the various document types—and the underlying data that is associated.
What Does eOriginal Know About Digital Securitizations?
The necessity for secure digital management of financial assets has never been greater. Strict requirements exist for the handling of electronic documents as part of digital contracts that are transferred or sold. Technology helps to eliminate confusion in the secondary markets by providing compliant applications that enable organizations to manage and monetize digital transactions with certainty.
At eOriginal, we firmly believe that technology is key to providing clients with the ability to adopt fully digital processes that reduce costs and accelerate transaction speed. Technology also provides the ability to manage eAssets in a secure and compliant environment while ensuring the associated documents and underling data are unaltered and authentic. Certainty, or eCertainty® as we call it, is critical to funding and overall valuation for organizations that need the ability to securitize or pledge assets on the secondary market. In addition, it defends the integrity of eAsset documents with proven legal enforceability.
As the secondary market continues to grow, it is crucial to enhance the confidence of investors through increased transparency and reduced risk. If you are interested in learning about the role and benefits of digital securitization, challenges to digitizing secondary market transactions, the importance of an end-to-end digital solution, and an example of how an innovator in this space has grown as a result of digital securitization, this white paper is a must-read.
Those interested in learning more about mitigating risk and establishing confidence with Digital Transaction Management can download a copy of the white paper here: https://www.eoriginal.com/white-papers.html