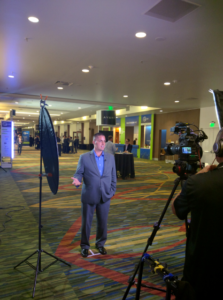 Energy. More specifically, high energy. There is simply no better way to describe the LendIt USA 2016 conference and eOriginal's time in San Francisco. And that comes as little surprise.
No sector in recent memory has developed more quickly than marketplace lending, and LendIt 2016 exemplifies the profound impact that it has had on the industry. From about 350 attendees at the inaugural conference 4 years ago to more than 3,500 people in attendance this year, the flagship marketplace lending event has become the ultimate annual water cooler for U.S. and international firms dedicated to expanding opportunities for borrowers and investors.
Of course with meteoric rise comes cynics. However, the fear of the new and unknown is rarely a wise strategy on its own, and that was especially clear on the ground at LendIt this week. As attendees experienced, the industry's high energy is not just focused on rapid growth. It is also focused on the industry maturing and developing into the lending methodology preferred by borrowers and investors.
Last week's announcement of the formation of the Marketplace Lending Association (MLA) by founding organizations Lending Club, Prosper and Funding Circle (an eOriginal client, see our case study) the path is set to elevate the industry even further. The trade association's intent is crystal clear and supported by its mission to  "promote a more transparent, efficient, and customer-friendly financial system by supporting the responsible growth of marketplace lending, fostering innovation in financial technology, and encouraging sound public policy."
Contrary to the views of some outsiders, this commitment to transparency and accurate risk assessment is nothing new for many marketplace lenders (MPLs), particularly those who have earned the trust of educated investors. While frictionless borrower processes and proprietary algorithms garner much of the attention, investor confidence remains at the core of these lending platforms. As a result, the default rates among most MPLs remain incredibly low, and they continue to attract more and more individual and institutional investors.
The MLA and the industry's overall move to standardization and best practices is a natural and necessary evolution. Moreover, we should expect the solutions to these challenges to come through innovative applications of technology that can scale to meet the demands of investors, third-parties and regulators. These challenges and solutions need to be embraced by those both in and out of the industry.
As an industry seeded in the global recession and born out of a response to restrictive lending patterns, MPLs are seeking to balance all factors of the lending process. After all, great reward requires great risk, and investors are often willing to accept those terms if they are surrounded by transparency, responsibility, and sound policy.
At eOriginal, we believe that marketplace lending will continue to grow and become the industry standard by both investors and lenders. Our end-to-end digital solution for this new era in marketplace lending is quickly becoming the go-to platform for the MPLs. Check out our latest case study to learn more about our approach.