Part I of a blog series featuring Security Financial Service's Senior Vice President Marc Rouda.
We were lucky to catch-up with Marc Rouda, Senior Vice President of Security Financial Services, a private finance company founded in 1943 specializing in the purchase of small business loans. Marc heads up small business loan acquisitions and the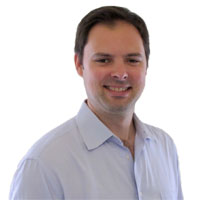 company was one of the first institutional investors to partner with online/marketplace small business loan originators earlier this decade.
eOriginal: What makes a portfolio attractive to investors and what role does confidence and transparency play in the process?
Rouda: There are several things investors look for when considering the purchase of a loan or a loan pool. Generally, we focus on loan pools originated by a lender we are familiar with. It's important for us to understand the originator's underwriting/loan approval methodology, whole book performance (not just loans being sold), and servicing/collections practices. We also like to meet the management team. Obviously, transparency from the lender is paramount – as the old saying goes, "Trust, but Verify." We believe that partnering with a lender that employs sound underwriting and plans for conservative growth can protect investor returns.
Second, if the loans are being digitally executed by the borrower, we'll need to confirm that the originator is already set up with a digital transaction management platform to transfer the loans to our eVault. Third, we'll screen the loans based on criteria we believe mitigates default risk – such as time in business, guarantor FICO, DSCR, the existence of public records, etc. Finally, if we're being asked to consider a loan pool in a secondary trade, we'll select those loans that have more than 12 months of seasoning. We prefer performing, but we'll look at scratch-and-dent and re-performing as well.
eOriginal: What do you consider a red flag?
Rouda: The first thing that comes to mind is that the originator doesn't use a leading technology platform to transfer digitally-signed loans. The other obvious issue is that the performance of a lender's loan book is considerably lower than expected.
eOriginal: From an investor perspective, how important are the principles of control, transfer, legality and certainty in asset management?
Rouda: These principles are critically important, especially as it relates to digitally-signed loans. Is the Note being assigned the authoritative original? Does the seller have rights, title and interest to the loans and the ability to transfer? Is there a process in place to properly transfer the loan? We want to be certain that every loan is properly assigned to us and that we can represent to any outside party, such as one of our creditors, that the loan is in our possession (our eVault) so that we can enforce the terms of the loan.
We thoroughly enjoyed our conversation with Marc and look forward to posting the continuation of this series later in July, which focuses on investor challenges, digital benefits and the need for industry education.
About Marc Rouda:
Marc is a third-generation co-principal of a family-owned finance company that invests in real estate and small business loans. Thanks to his grandfather and father, lending and finance is in his blood and, despite the logical choice of obtaining a liberal arts degree in college, he knew early on that he would be focusing his career in those fields. Marc and his wife live in the San Francisco Bay Area where they are raising two truly obsessed 49ers fans.