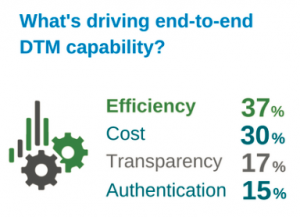 As alternative lenders rise in prominence and traditional lenders look to technology platforms and the digital ecosystems of the future, it's no secret that convergence is the buzzword for financial services in 2017. Stakeholders across the spectrum pay attention to the integrity of what is being purchased, which elevates the need for control and certainty of assets, as well as the expectation of transparency in the processes surrounding those transactions. Fortunately, digital transaction management (DTM) allows a multitude of players in different roles to participate, all while keeping rights, privileges and compliance requirements in mind.
Drivers of Digital Adoption
Earlier this year, eOriginal conducted a survey to develop a deeper understanding of the drivers of adoption and the challenges associated with implementing an end-to-end DTM solution. The company surveyed 195 LendIt 2017 conference attendees, consisting of marketplace lenders, banks and other key industry players.
Survey takers were asked what is driving end-to-end DTM capability and the top four responses were: Efficiency (37%), Cost (30%), Transparency (17%) and Authentication (15%).
It came as no surprise that Efficiency and Cost were listed as primary drivers of DTM; however, I was also happy to see that Transparency and Authentication rounded out the top four, as they are the cornerstones of the growth of our lending and financing sector.
Digital Enables Control and Certainty
DTM removes the ambiguity from the alternative lending and from an investor perspective, this provides structure post-signature to create a secure, consistent and scalable process that will assure asset verification and transfer validation.
Referencing control and certainty, Security Financial Services Senior Vice President Marc Rouda highlights:
"One benefit of using digital transaction management technology is that the transfer process is simple—we can clearly see which seller is requesting the transfer, a list of which loans are being transferred, and easily download the audit trail and copies of all loan documents for our records. Thanks to technology, the platform is secure and we can easily control and manage each loan."
To support industry-wide adoption, processes must support best practices, promote transparency and authentication for funders, investors, custodians, rating agencies, customers and growing needs. As loan volumes increase and new channels of funding are established, digital transaction management is essential.
See More in Our Infographic!
In addition, survey takers were asked to highlight challenges marketplace lenders face, and the obstacles to growth and adoption of DTM strategies. To find out what their responses, please take a few moments to check out our infographic.