While enhanced customer experience frequently gets the headlines, the Digital Transaction Management (DTM) revolution has impacted every aspect of the vehicle finance industry.
By connecting digital loan origination systems, dealer management systems and portfolio management systems, funders can more rapidly link with dealers and, in some cases, have completed the financing process before the borrower even drives off the lot in their new vehicle. That is an innovative financial notion for dealers and the cost management of their floor plans.
DTM was born out of the goal to enable businesses to function 100 percent digitally, giving organizations the ability to electronically execute and manage a wide range of information-intensive paper processes involving data and transactions. The Vehicle Finance Industry has gradually been shifting their loan generation model from traditional paper to embrace DTM.
Electronic Securitizations: The New Possible for Vehicle Finance
The companies and financial institutions in the automotive finance sector have been funding the sale and securitization of automotive retail installment contracts to consumers and businesses for long time. Most auto loans are originated by vehicle dealers; large financial institutions and locally-based financial institutions, such as credit unions and community banks. Securitization of auto loans is not a new practice for these institutions; however, securitizing electronically is still a fairly new concept. eOriginal educates and helps vehicle finance companies implement these digital best practices.
Here's how eOriginal takes the process digital: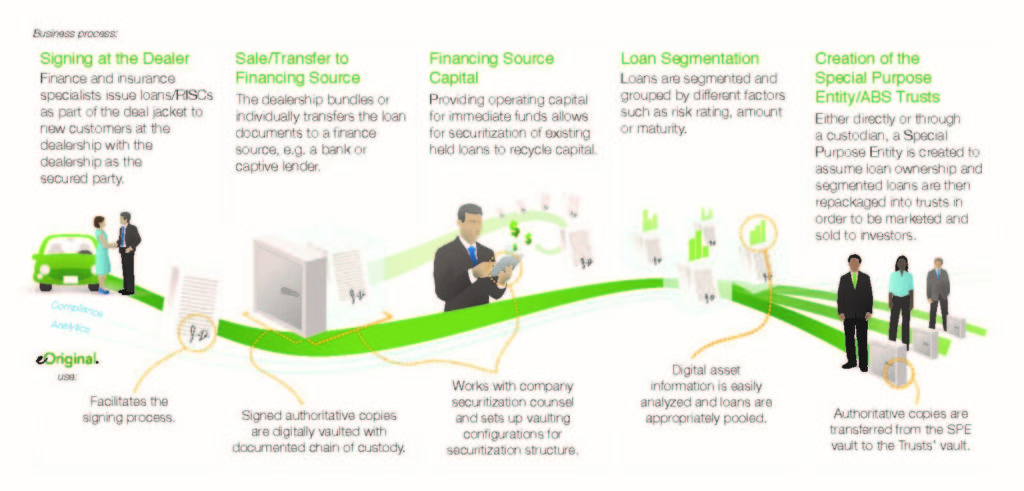 As we mentioned previously, the Vehicle Finance industry has gradually been shifting their loan generation model to DTM. In fact, we approximate that 20 percent of automotive loans in the U.S. today are done electronically and at least 85 percent of those digital loans move through eOriginal's eAsset® Management Solution.
According to a recent report by Aragon Research, the DTM industry is poised to grow into a $30-billion market by 2020. For automotive lenders, this means a completely automated automotive finance process.  As asset monetization evolves, so does the complexity of the post-signature life of loan assets. Documents and contracts managed with DTM can be electronically transferred from the dealer headquarters where the loan can be pooled, collateralized, securitized or transferred – all 100 percent electronically.