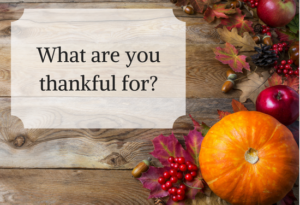 It's the time of year when we can all stuff our stomachs without guilt, spend quality time with the people closest to us and reflect on what makes us thankful. For the second year in a row, we wanted to provide you with some Thanksgiving facts that we found interesting:
The original Thanksgiving was three days long! Could you imagine the leftovers?
Speaking of leftovers, in 1953 someone accidently bought 260 tons of turkey. A plan was created to sell individual trays of turkey to get rid of the leftovers. This mishap resulted in the popular TV Dinner.
Though 88% of people eat turkey, it wasn't served at the first Thanksgiving.
Favorite Moments of 2017
As we look back on the amazing things eOriginal accomplished this year, we couldn't be more thankful for the opportunities that help continue our company's growth. Here are some of the highlights:
Deloitte Fast 500 Ranking and MD Tech Council Award. We announced this month that eOriginal was named one of the fasted growing technology companies in North America by Deloitte Fast 500™. This ranking affirms the growth and position we have as an industry leader in Digital Transaction Management. Additionally, eOriginal was named Emerging Company of the Year buy the Maryland Tech Council. We are very thankful to be recognized by these prestigious organizations.
Participation in Thought Leadership. Experts at eOriginal had the opportunity attend industry events and speak on panels to spread the word on digital transformation.
Expansion in Mortgage. This year eOriginal has taken expanded our role in the mortgage ecosystem. Our partnerships with Fannie Mae, Quicken Loans and Notarize provided positive momentum for the rise of digital mortgage. In addition, we released a digital mortgage research paper that provides industry insights, explores the various elements in the process, and steps to ensure broad scale adoption.
Company Growth. We welcomed new additions to our growing company, including key members of the executive team and are grateful to have a fantastic work community with great leadership and wonderful staff.
Wrapping Up 2017 
As 2017 ends and we look to the New Year, we couldn't be more excited to continue to empower digital financial ecosystems and enable transactions that provide confidence and certainty to stakeholders. What are you thankful for? Please share it with us on Facebook or Twitter. Cheers to a very Happy Thanksgiving!