Did you know that eContracting and the automotive finance industry go hand-in-hand? By connecting digital loan origination systems and dealer management systems, funders can more rapidly link with dealers, and in some cases, complete the financing process before the borrower even drives off the lot. This empowers dealers to improve operational and capital efficiencies.
Next week, I'm excited to head to Texas for the 2018 defi SUMMIT. eOriginal and defi SOLUTIONS have maintained a great partnership over the years. Together we offer vehicle lenders an easy-to access integration to create and process secure eContracts and eVaulting. defi's loan origination system (LOS) allows lenders to focus on the actual lending part of business by taking care of the more technical aspects of processing and decisioning loan applications. In addition, the technology offers the speed and performance to make the loan origination process as simple as possible. Our partnership empowers customers to better address regulatory compliance and optimize lenders' flexibility to move assets on to the secondary market.
Through eOriginal's platform, loans can be executed in minutes allowing dealers to get funds from their lenders within hours. The paper-out process for vehicle purchasing improves the customer's buying experience, reduces dealer overhead costs and expedites funding cycles.
It's Time for Auto Finance to Reach Its Digital Lending Potential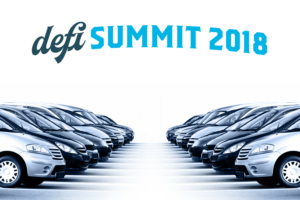 As I've mentioned previously, the auto finance industry was one of the first to fully embrace eContracting solutions. Be that as it may, it's nowhere near as widely adopted as one might expect. There remains plenty of room for loan origination, dealer management and portfolio management systems to develop. The industry is also far from reaching its potential when it comes to capital efficiency and transparency.
If you will be at next week's defi SUMMIT 2018, let's schedule a time to chat about what we can do to streamline your digital lending transformation.