Everyone likes shiny, new things. For that reason, we are often drawn to the stories and discussions about autonomous vehicles, artificial intelligence, blockchain and a litany of "buzz-worthy" innovations. However, to take the next step in the digital transformation of auto finance, it's not the shiny new toys that grow adoption and create a stronger digital ecosystem for auto finance.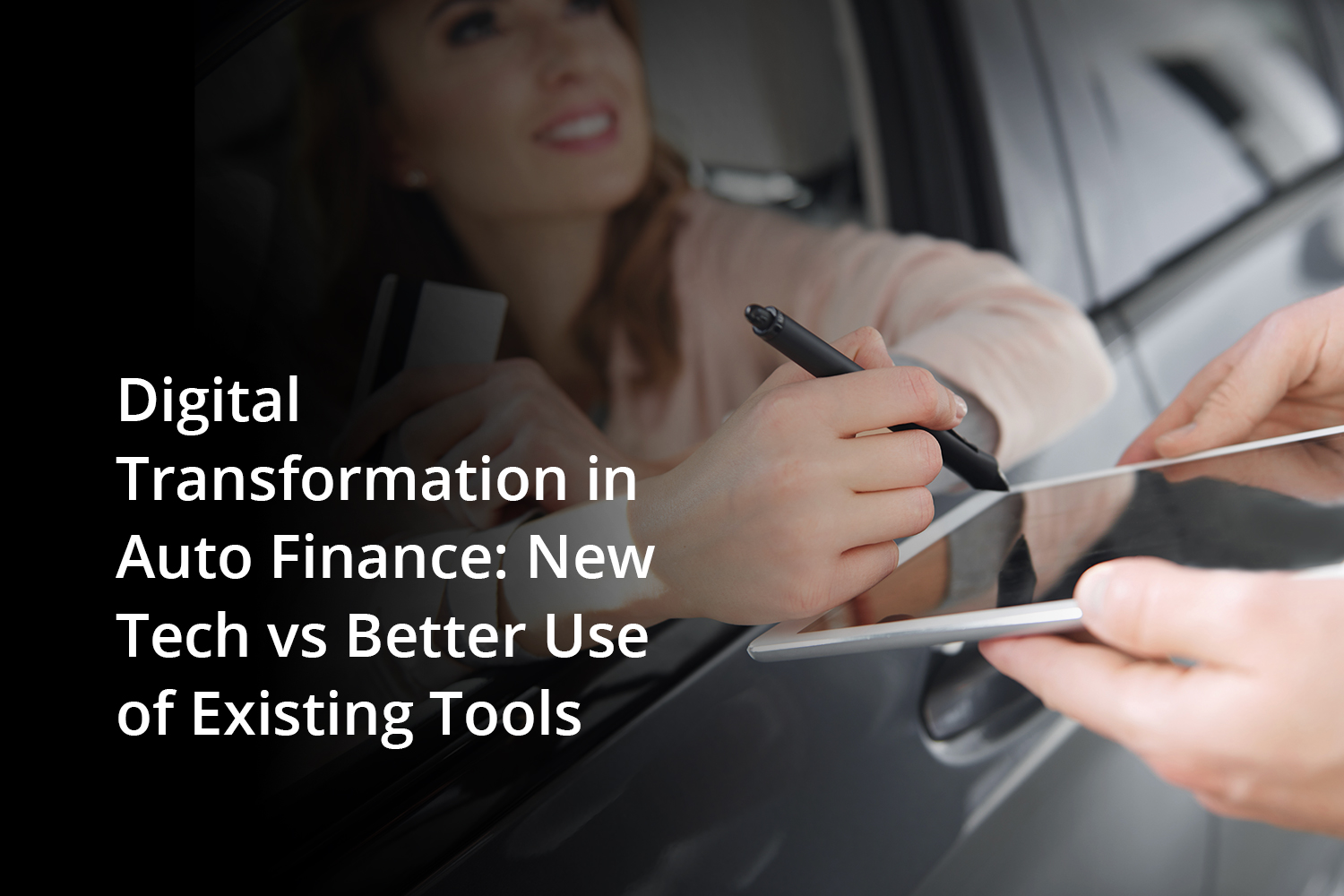 Instead, the next leap forward will be about connecting existing technologies and using those innovations to expedite transactions between borrowers, dealers, originators, and lenders in the secondary market.
This was highlighted recently by Mark Vazquez, Westlake Financial's senior vice president of marketing. He told Auto Finance Excellence the company is focusing on promoting under-used tech – in this case, using data to accelerate borrower qualifications in dealerships – and that it requires changing behaviors and understanding how to integrate technology to transform the buying and lending process.
While Vazquez is focused on the front-end of the lending process, the same thought process and approach can be applied across the life of a loan or a retail installment contract. Indeed, eOriginal client Westlake has been moving in that direction with its indirect portal, LoanCenter, which also consolidates Westlake's other direct-to-consumer offerings, including title, unsecured loans, and refinancing options. It ties to the back-end enhancements that Westlake has been building for the past several years. [See Westlake case study]
In mapping a digital transformation process, it is important to remember that the benefits of user experience, speed and capital efficiency are qualities just as valuable to lenders as they are to borrowers. However, many digital systems and processes are disjointed and don't allow for documents and data to move smoothly from one system to the next. The result is a slower process and less trust in the documents and data.
With a cohesive process and integrated solutions, lenders can gain speed without concern over loan quality. Indeed, a well-built technology-driven process accelerates both the loan underwriting process and the movement of auto loans to the secondary market.
For example, the integration of a full digital lending platform with a compliant and configurable electronic vault allows digital assets to be easily accessed and transferred, which enables investors, legal counsels, and ratings agencies to accelerate due diligence.
However, many current digital processes are disjointed or hybrid. While accelerating the buying experience, they are not always using best practices to capture process data in order to improve loan quality, which leaves some lenders feeling wary of the documents they are receiving.
eOriginal client First Investors Financial Services has been successfully using eSignature and eVaulting to accelerate movement of capital and quickly take ownership of digital loan agreements from online auto loan originators, as well as marketplace lenders providing auto loans.
"We've moved our lenders and rating agencies along the learning curve to understand digital best practices and to address concerns around contract control and [legal] perfection," said Bennie Duck, Executive Vice President and Chief Financial Officer at First Investors Financial Services, explained in the case study, "First Investors Finds Perfection in Management of Assets in Digital Ecosystem."
However, First Investors and many other auto lenders would like to increase the transparency of the digital chain of custody for all auto loans, regardless of whether they are direct, indirect, or refis. By extending the digital process, it elevates the level of trust all parties can have in the financing.
Through any digital transformation of auto finance, it is important that all parties are essentially seeking for the same goals: for funding to move faster with less operational expense and high loan quality. You don't need shiny new technology to get that done. It's all right there. It just needs to be connected with agreed upon best practices.