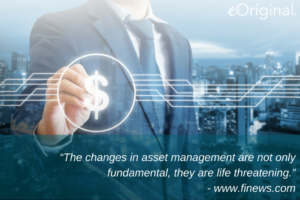 Financial markets worldwide are experiencing volatility. Whether we can trace this to current events, strong currencies or other business factors, everyone agrees, from the banks to the investment community to the mortgage brokers and beyond, confidence and certainty are paramount when it comes to the management of financial assets.
According to a recent article on the global journalism platform, FinNews.Com, there are crucial changes to make as an asset manager in the digital age. The article discusses how we are basically in a struggle to digitize or perish stating, "The changes in asset management are not only fundamental, they are life threatening: the latest wave of mergers and takeovers should set the alarm bells ringing for an industry which already sees itself under threat. The apparent relentless flow of assets into passive investment strategies—in the first half of the year it reached a further $500 billion—is the epicenter of this phenomena."
The article emphasizes that digitization combats this volatility noting, "The answer to these mounting threats can only be digitization."
Asset Managers' Digital Strategy
Asset managers are faced with shrinking margins due to error-prone manual systems and hesitant investors for whom your post-signature electronic assets are frighteningly paper-based. Digitizing assets gets you on the right path; however, this only scratches the surface of an effective electronic asset management program. In fact, according to digitization guru, David Rogers, author of The Digital Transformation Playbook, Creating a successful digital strategy needs to include customers, competition and cooperation, data, innovation and usage. Here's why:
Customers: If you can deliver secure access to additional authorized participants such as lenders, document custodians, investors, auditors and legal counsel, you can bring confident processes out into the light. Electronic assets are unparalleled in their ability to provide clarity to everyone involved.
Competitors: If you provide secure storage of your electronic assets, including documents and data, when pledging or collateralizing in the secondary market, you will beat a competitor who's got paper-based processes every time. You will become a partner of choice because your data holds up under scrutiny, and under legal challenge.
Data: You need automation to meet standards such as the ANSI X.9 Transfer of Electronic Contracts (TOLEC), which was developed to provide an automated, verifiable process to migrate documents between two electronic repositories. Moving your data, making it secure, transferable, with a clear audit trail—this part of your digitization journey solves so many problems before they begin. You can also use your data as a pledge- against default risk.
Innovation: If you possess assets that have a downstream life in the secondary market and you're not utilizing them, you're missing out on significant revenue. Mortgage companies are putting together some innovative structured securitizations and collateralizations that provide cash flow to traditionally cash-strapped organizations. New post-signatory usage for auto leases; vacation timeshare contracts and consumer loans have pumped up these industries' coffers in ways that no one foresaw just five or ten short years ago.
Usage: As you know, documents with a downstream afterlife add complexity to digital transactions. If you have transferable records services to enable control of electronic assets in accordance with the Transferable Records requirements of UETA and ESIGN, as well as the Uniform Commercial Code (UCC) requirements for the creation, sale, pledging, pooling, syndication or securitization of authoritative copy documents, you're assured of usage processes that are protected, secure and compliant.
Providing Certainty in a Volatile Market
In The Future Of Business Is Digital, Forrester Research advises, "A piecemeal strategy of bolting on digital channels or methods is no longer sufficient. Instead, you must think of your company as part of a dynamic ecosystem of value that connects digital resources inside and outside the company as needed to compete. You must harness digital technologies, both to deliver a superior customer experience and to drive the agility and operational efficiency you need to stay competitive."
Digitizing with technology that has a proven process and complies with all legal requirements for transferable records management means that you can manage and monetize your digital transactions with certainty.
Having "Certainty" is critical to funding and overall valuation, especially if you are an organization that needs, or will need, the ability to securitize, pool or pledge your electronic asset documents in the secondary market. This is also critical if you are an investor, subcontractor or reseller who has relationships with other parties that may have an audit requirement or a security interest.
Fortunately, eOriginal provides the maintenance, control and use of critical documents that have an intrinsic value, such as negotiable instruments, in a fully electronic environment, storing and protecting these assets throughout their entire lifecycle, including post signature execution.
It's time to act now and join the digital financial ecosystem and our solution experts are here to help. If you are attending ABS East next month in Miami, please be sure to include eOriginal in your itinerary!