Last week, we introduced the dynamic joint solution that empowers DocuSign and eOriginal customers with the complete spectrum of Digital Transaction Management tools.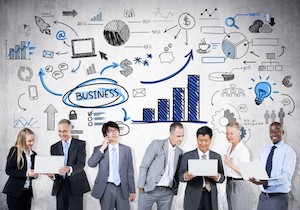 The story continues. DocuSign's Chief Policy Officer Ken Moyle and eOriginal's President and CEO Stephen Bisbee meet again to discuss key trends that promise to make digital business a reality.
Keep reading to carve a competitive edge into your strategies through a DTM solution.
How is compliance catching up to mobile business?
Ken Moyle: The regulators are definitely playing catch-up in the mobile environment. We're aware that consumers and businesses alike are rapidly adopting mobile technology and as a result, we need to accommodate their desire to do business electronically on smaller mobile devices. Here, we have the opportunity to bring our security standards to bear on those platforms. Likewise, we can bring the spirit of the regulatory environment. What does that mean in plain English? It means that stuff needs to be readable on small screens and presented in a reliable manner. We're thinking through the best way to present disclosures and proper instructions and help for folks using mobile devices for business.
How have the recent "Digital Disruptions" impacted the key trends that will drive business growth?
Ken: I can think of one: the regulatory environment is shifting rapidly away from blocking electronic processes to embracing them. There is pressure from Congress for regulatory bodies to move faster in embracing digital; likewise, there is push for government itself to go digital. But there are also some significant moves within the Small Business Administration, IRS, Consumer Financial Protection Bureau – these are all folks that carry the torch for going digital. Their motivation: Consumer and tax-payer empowerment. This is such a different tune from what they were singing 15 years ago. Before, it was all about the worry over the 'digital divide' and consumers being left behind. Now, they see the increasing demand from consumers to conduct their business digitally, and they see how consumers can benefit from more digital empowerment instead of less.
Stephen Bisbee: Ken and I are seeing the same thing, which is not surprising considering the space we're in, so I'll say security and compliance again. Truly digital transactions should enable compliance, accountability, and auditability. And there is a general expectation from people today that they will do their transactions electronically. Those in their 20s have banked for many years without setting foot in a bank. A local university ripped out all student mailboxes because students were not using them. People today expect to manage their lives electronically, including their transactions as consumers.
How do you think these trends and changes will affect you? Join the conversation and leave your questions and comments for Ken and Steve below.
And it all comes together next week, where Ken and Stephen arm readers with best practices on how to maximize success for any digital business. Stay tuned!
---
Want to read more from these industry-leading experts? Check out the first and third part of this executive blog series.