eLeasing is on the minds of many players in the equipment leasing and finance industry. The Covid-19 crisis forced financial institutions and equipment dealers to rapidly accelerate their digital-enabled, contactless transactions. Now, organizations are wondering what their digital future holds.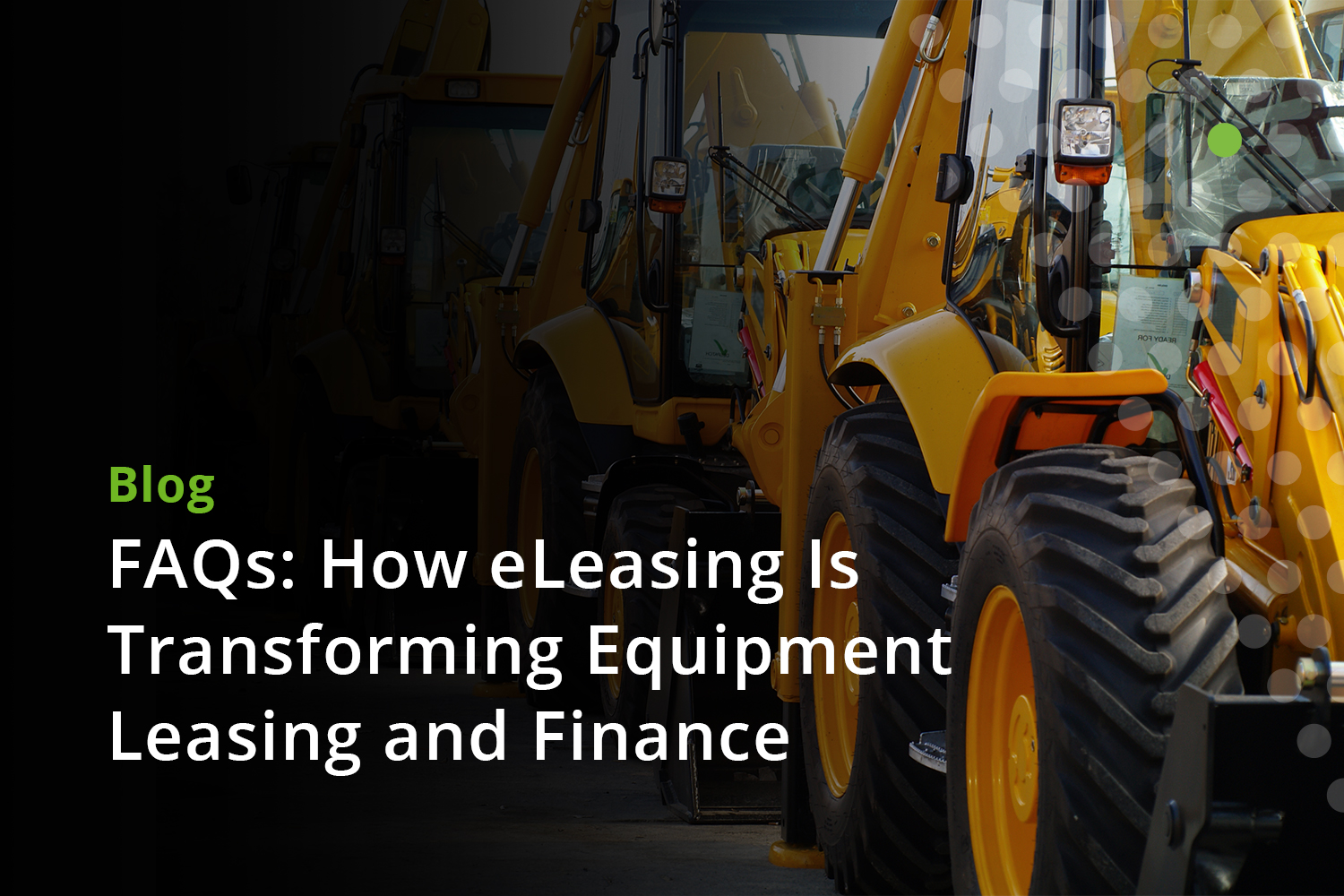 The Equipment Leasing and Finance Association (ELFA) is certainly bullish on eLeasing. "Innovation from the digital adoption of modern smart technology and business models built around that technology will leap forward in equipment finance in 2021," it predicts. "E-signatures and e-leasing . will continue to be widely adopted."1
But many financial institutions and equipment dealers remain unfamiliar with eLeasing. To help organizations understand how eLeasing can benefit their business, eOriginal® assembled answers to some of the most frequently asked eLeasing questions.
What is eLeasing?
eLeasing involves the digitization of leasing and finance processes. It often begins with eSignatures, which aren't simply a digital version of "wet" ink signatures but can actually apply biometric and/or cryptographic algorithms to capture and assure the intent to agree to or approve the contents of a contract or document. eLeasing can continue through eContracting all the way through to digital securitization of the electronic chattel paper (eChattel) for sale in the secondary market.
What is eChattel?
eChattel isn't just a scanned version of a paper lease. Instead, it's a Digital Original® document stored in an electronic medium – typically an electronic vault (eVault). The eVault must reliably establish the person to whom the single, authoritative copy is assigned, issued, or transferred.
eChattel is governed by a legal framework. Uniform Commercial Code (UCC) Section 9-105 requires that eChattel be created, stored, and assigned to meet six stringent Safe Harbor provisions, including ensuring an authoritative copy, assignee identification, secured party modification, and copy identification.
What is an eVault?
An eVault is designed to hold and manage eChattel as digital financial assets. eVaults permanently bind eSignatures to a document and create a tamper-proof seal and audit trail that demonstrates ownership and compliance. An eVault provides a secure environment that ensures digitally signed documents remain negotiable and transferable. An effective eVault provides irrefutable proof that a document is the original, unaltered document. It should allow permissioned access to the document without compromising the integrity of the original. It should likewise ensure compliance with relevant laws and bolster legal enforceability of the document and properly certified copies of the digital original.
Do all eSigned documents require an eVault to be enforceable?
The keys to enforceable eSignatures are attribution, intent and authority. Let's say an obligor signs a lease document electronically, and your organization prints the document and signs it manually. To enforce the document, you still have to be able to prove that the obligor signed the electronic document validly, including fulfilling the requirements of two key pieces of legislation: the Uniform Electronic Transactions Act (UETA) and the Electronic Signatures in Global and National Commerce Act (ESIGN).
To achieve these goals, you need eSignature technology that assures the authenticity of the eSignature file and provides the evidentiary information for enforceability. This process doesn't create eChattel, but it enables an initial step toward eLeasing.
Negotiability is a different consideration, and a digital financial asset must be electronically vaulted to fulfill the legal and regulatory requirements for uniqueness and negotiability.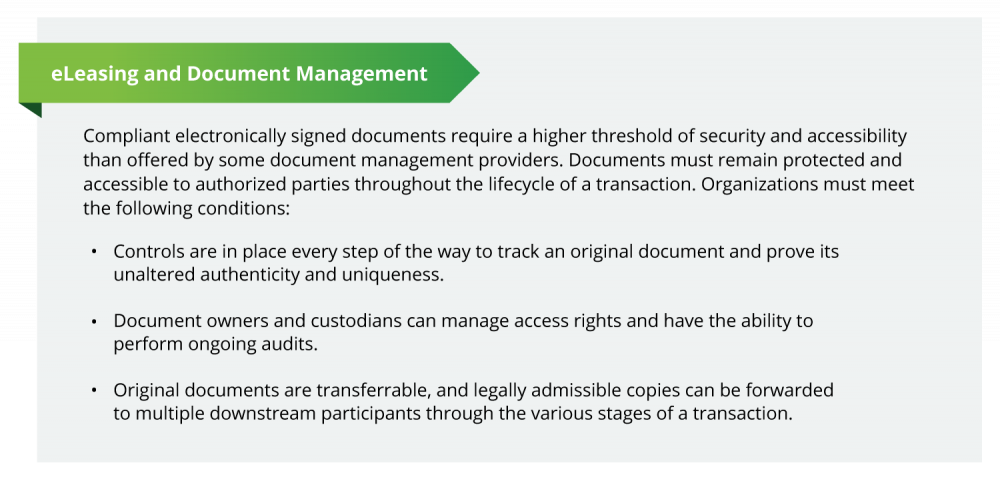 Can a "wet-signed" paper agreement be converted to create eChattel?
The short answer is yes. The scenario governing secure transactions is covered in UCC 9-105. There might be cases where an organization has wet-signed paper agreements but later wants to convert the lease document to eChattel. To create eChattel from wet signatures, you must have possession of the original chattel paper. In addition, in the process of creating the eChattel you must also destroy the original chattel paper or permanently mark it as a copy since there can't be two originals of a chattel paper lease document. Once you've created the eChattel, that electronic file is deemed the original document. eOriginal makes this possible with Paper In®, a four-step process that converts an eligible chattel paper document to a Digital Original document.
What is RON, and why is it important to eLeasing?
Remote online notarization (RON) enables participants in the signing of a contract, including a notary, to electronically and remotely interact through an audio-video connection. Participants appear on one another's screens in a video window and can converse throughout the process – like a Zoom call with authentication.
In response to the sudden demand for RON at the start of the Covid-19 crisis, states rushed to put in place enabling legislation to govern the use of RON. Currently, all but two states – California and South Carolina – have either temporary or permanent measures that allow for RON.2 With customers increasingly demanding the speed and convenience of digital-only transactions, RON will become a growing and regular part of the eLeasing process.
What is an audit trail, and why is it important to eLeasing?
In addition to UCC 9-105, UETA and ESIGN provide a market standard for confirming control over an eRecord such as eChattel. The goal is to establish control of the single "authoritative copy" of the transferable record and to demonstrate that the authoritative copy is unique, identifiable, and unalterable.
To achieve that goal, the eChattel needs to be stored in an eVault that maintains a time-stamped, tamper-evident audit trail. The audit trail should track crucial events such as who had the authority to create the document, who actually created it, when they created it, whether they had rights at that time, the digital certificate of the entity or person that took those actions, and when the document was transferred from one entity to another. Those evidentiary and control elements are important to maintain in an audit log so they're admissible in a court of law.
Have capital market assignees and investors accepted eChattel?
eOriginal enabled the first digitized equipment leasing transaction in 2000. But digitization has been slower in the equipment leasing and finance industry than in auto finance and home mortgages. Still, the industry is beginning to see more collateralization of lease assets. Securitization, likewise, is occurring at a faster pace. As one example, in the first quarter of 2021, eOriginal handled more equipment-lease securitizations than in all of 2020. Ultimately, as financial institutions, equipment dealers and customers realize the benefits of digitization, digital processes will extend end to end – from eSignatures to eContracting to digitized sale of eNotes into the secondary market.
1 "Equipment Leasing and Finance Association Announces Top 10 Equipment Acquisition Trends for 2021," ELFA, January 2021
2 "Answers to Urgent Questions Notaries Are Asking About Remote Online Notarization," Notary Bulletin, Updated August 2020