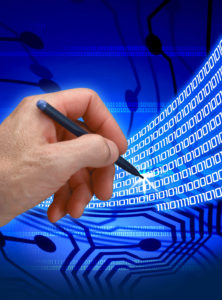 Today, the eOriginal team is in San Francisco for eSignRecords2017, the Electronic Signature and Records Association's (ESRA) annual conference. Each year, the event brings together business, technology and legal minds to discuss the rapidly evolving space for eSignatures and digital transaction management with a focus on advancing best practices and understanding current trends.
This conference is near and dear to eOriginal as our President and Founder Stephen Bisbee is also a founding member of ESRA and has been influential in shaping the legal parameters and standards for the use of eSignatures and digital records.
"Over the past 20 years, the needs of the eSignature industry have surpassed our initial goals of encouraging businesses to go digital and accept digital signature technology," Steve stated. "The focal point used to be on eSignatures, but now the eSignature is just the beginning component of a larger digital process. To keep up with the growing demands of digital, global businesses are adopting digital transaction management (DTM) to satisfy consumers, provide legal enforceability for their financial assets, and ensure that their assets are compliantly maintained after the signature execution."
There's no doubt that eSignRecords will be THE event to discuss the changing digital landscape. We are especially looking forward to discussions centered around the future of the digital revolution, identification, authentication, marketplace lending and digital mortgage.
As noted by ESRA, "The world is changing thanks to electronic signatures and digital records, but with each legal and technical advance, much work remains to be done."
Digital Mortgage: What is Real in a World of Hype
Highlighting the conference tomorrow will be the panel, Digital Mortgage: What is Real in a World of Hype. eOriginal General Manager of Digital Mortgage Simon Moir will be joined by Fannie Mae's Michael Cafferky and Wells Fargo Home Mortgage's Brian Webster. Ken Moyle of K6 Partners is moderating the session that will focus on the rapid growth of digital mortgage applications and the shift of online lenders towards mortgage and what is real and what is merely hype as momentum for technology adoption in the mortgage industry continues to grow.
The Future of Digital
Since the start of ESRA back in 2004, the digital transaction landscape has changed dramatically, and tech-savvy disrupters are now mainstream. However, as PayPal CEO Dan Schulman told CNBC, the change is only just beginning, especially in FinTech.
"You have to, to serve these markets, re-imagine how money can be managed and moved because there's going to be more change in the next five years in financial services than happened in the past 30," Schulman said.
How that change will look will be central to the educational sessions and networking discussions at eSignRecords 2017. As you prepare for the conference, I highly recommend you review our white paper, Mitigating Risk for Digital Transactions. It does a great job highlighting what your organization should consider post-signature and the need for digital best practices. If you are in San Francisco, we encourage you to connect with us and attend the digital mortgage panel.