Among the many great sessions at eSignRecords2015 last week, none may have been more highly anticipated than the panel on "Digital Transaction Management: A Path Forward" as it tackled how the Digital Transaction Management (DTM) technology space is rapidly evolving and maturing and how vendors and customers must understand it in the larger context of business processes.
Held last week in New York City, eSignRecords2015 was this year's annual gathering of the Electronic Signature and Records Association (ESRA), the premier global trade association focused on the advancement of electronic signatures and records and leading efforts to optimize the understanding, and encouraging adoption, of these practices.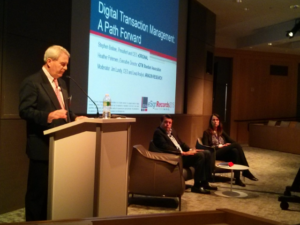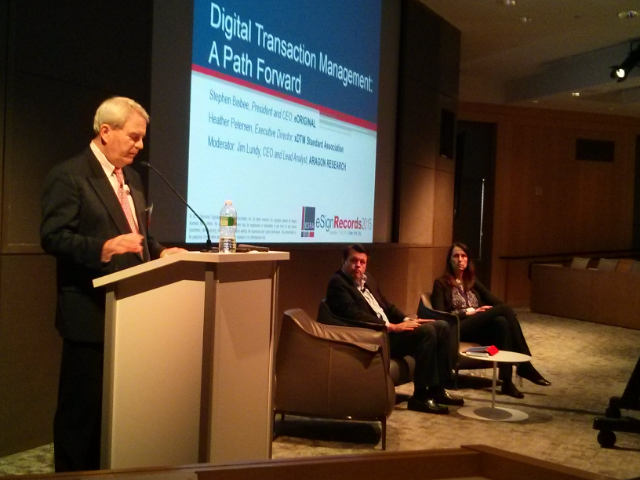 The DTM path panel featured eOriginal CEO and President Stephen Bisbee and DocuSign's Heather Petersen, executive director of xDTM Standard, and was moderated by Jim Lundy, CEO and Lead Analyst of Aragon Research, one of the leading advocates for the understanding of a DTM and a key voice in elevating it into the business process concept.
"This is about business processes and the evolution of DTM to serve these growing demands," Lundy said, noting that DTM is a key disruptive force in the business technology landscape with increasing business requirements to improve processes and enhance efficiencies.
"Even today, paper processes are 1 to 2.5 percent of corporate expenditures," Lundy said. "These costs are still in play today, and it's a massive blackhole."
Driven by DocuSign, the xDTM standard generated a great deal of discussion as to its need, its value and how it would proceed to be more inclusive of the industry and the overall technology space. While still attempting to gain industry acceptance for the project, the goal xDTM Standard Association is to develop recognized key requirements for online transactions involving electronic signatures and digital document management. ESRA is not affiliated with the development of the xDTM standard.
However, the more tangible piece of the discussion was Lundy and Bisbee covering the growth of DTM and the need for it to be perceived as more than just eSignature. The rise of DTM Asset Management as a subcategory allows clients and analysts to better understand the full value of DTM, particularly as it applies to financial services and other industries that rely on high-value documents.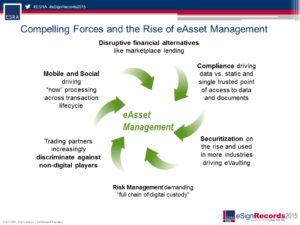 In a research note earlier this year, Aragon Research differentiated between DTM Asset Management and Enterprise Content Management (ECM); emphasizing the more sophisticated functionality required by Asset Management to enable a high-level of transaction services, transferable record services and vaulting services. Moreover, the note highlighted the increasing demand for this functionality.
"We have seen a real convergence of forces that is pushing the rise of asset management," Bisbee said. "From mobile and social divers to demands for compliance and risk management, more and more industries see a need to manage and monitor various types of documents, participants and actions for transactions post execution."
From the panel, we learned that security and auditability are two critical items that need to be verifiable in a full DTM environment. With full life cycle eAsset® Management, there can be confidence in the process that users are identified and verified with the right level of security, including encryption of the signature and the entire document.
As it is becoming rapidly apparent, this and other deep DTM integration will become the next wave of drivers accelerating adoption as eSignature becomes more and more of a commodity.
"Truly, eSignature is only the tail of the dog," Lundy said.