If you have been following along with my Friday blog posts since I started my summer internship with eOriginal, you probably have noticed a common thread: the importance of adopting digital business practices.
I could write blog after blog about how important it is to start integrating these new technologies into your business because, to put it bluntly: going digital is inevitable – and if you don't believe that technology integration is already a common practice, you are going to believe it soon.
But, for fear of "beating a dead horse", I wanted to go a little more in depth in comparing two prominent industries that eOriginal services to show how complete opposites are digitally managing their assets to not only expand their businesses, but obtain a competitive advantage.
The Battle of Old v. Young
Comparing the Equipment Leasing and Vacation Ownership industries is a perfect way to show how two drastically different industries can benefit from a common solution.
The Equipment Leasing industry is well known for being rooted in tradition. As firm believers in the saying "if it isn't broke why fix it", the adoption of electronic chattel paper for their lending processes has been slow. While industry associations such as NEFA (National Equipment Finance Association) and ELFA (Equipment Leasing and Finance Association) are making strides in explaining the vast benefits of Digital Transaction Management (DTM) adoption, they still have a long way to go.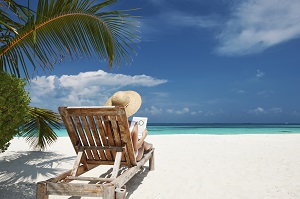 On the other side of the spectrum is the Vacation Ownership and Timeshare industry or the "flashy" industry. While vacationing is fun, owning a timeshare can take that experience to the next level. And, let's face it: If you were given a couple thousand dollars to spend, most people would not spend it practically. You would find a beach somewhere to lounge and enjoy the sun and the sand.
While Vacation Ownership may be a more attractive industry, it does not mean the key players in the industry can slack off with how they attract new buyers. With millennials recently passing Generation X in vacation spending to move into the top spot for vacationing, leaders within the industry must understand the importance of digitization for this young generation.
Different, But Still the Same
While these two industries function differently, and attract a different demographic, the benefits they reap are nearly the same. Contract digitization is a powerful opportunity to increase customer satisfaction, decrease sales costs, reduce contract errors, and increase speed to funding.
We have helped the nation's top vacation resort companies woo their potential customers with dynamic presentations, incorporating mobile and advanced technology to meet and exceed the digital demands of the millennials.
Within the Equipment Leasing industry, eOriginal has streamlined the process throughout the entire process lifecycle. This allows the industry to optimize their current processes to create new levels of efficiency, while still receiving the lasting benefits of digitally managing their assets.
Digital Transformation – What it Means
For the majority of businesses, going digital should not be overwhelming; it should be exciting. One of the biggest barriers will always be your misconception of what a digital transformation means. So, for the record, I would like to get the story straight:
A digital transformation is a positive change for businesses. You can take your current team and their current processes and make them more efficient with the different applications eOriginal has to offer. It doesn't require you to implement any new-age technology, other than a computer, smartphone, or tablet that we have all come to love. Although, personally, I think implementing robots into your office as part of your digital transformation would be pretty cool…