It is officially conference season! And what better way to kick it off than making a big splash at two conferences next week: ABS East 2015 in Miami Beach, Florida and ELFA Operations and Technology in Philadelphia, PA.
Today, we take a closer look at the Ops and Tech Conference. Stay tuned for updates from ABS East next week.
Ops and Tech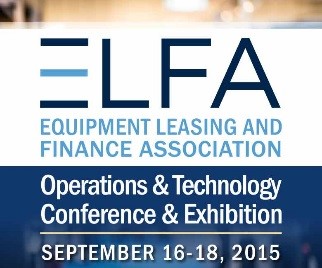 As the Premier Event for Leasing and Finance Accounting Professionals, the ELFA Ops and Technology Conference & Exhibition provides direction and support for member companies using technology to improve business processes, enhance customer satisfaction and increase operational effectiveness.  It has solidified itself as a must-attend conference each year and we are looking forward to exhibiting at our booth this year.
ELFA Ops & Tech will be held on September 16-18, 2015 at The Hilton Philadelphia at Penn's Landing right off the Delaware River in Philadelphia, PA.
Why will we be there?
When it comes to equipment leasing and finance, we like to think we know a thing or two that could help your company succeed.
As a proud member of ELFA, eOriginal is excited to be attending the conference to educate equipment leasing and financing companies on the benefits of moving transactions and high-value agreements into an end-to-end digital environment with our eAsset® Management solution. Whether it is significantly reducing the sales cycle or being able to pool contracts faster and more efficiently, we know that we can help you in some way, shape, or form.
Not to mention, we can't wait to visit the city of Brotherly Love for a few days to sit down and meet with our colleagues.
Schedule a Meeting!
Kari Boone and Lou Olivieri will be at the conference to answer any and all questions you may have about us. While we love visitors who stop by our booth and say hello, we encourage you to preplan your trip by scheduling a meeting by clicking on this link.
We hope to see you there!