As equipment lease and finance continues to evolve, businesses are finding the need for a digital financial transaction solution that supports eLeasing has never been more essential. Fortunately, as my colleague Scott Shepherd noted, the ability to digitally transform your business has never been easier and technologies that offer seamless integrations into existing systems are available.
eLeasing Benefits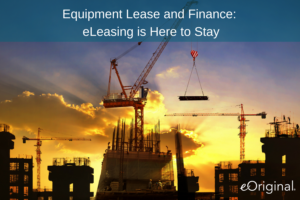 A fully digital transaction management solution provides greater benefits for firms in the equipment lease and finance space and enables an improved customer user experience, enhances operational efficiencies and eliminates paper-related transaction costs. Thanks to technology, errors can be identified before closing and the entire process is faster, more compliant from pre-loan to signature to transfer into the secondary markets.
eLeasing in the News
Equipment Leasing and Finance Magazine's Fall 2017 edition featured the article, Next Big Step, that quoted eOriginal's Vice President of Business Development Brian Kelly. Referencing the business benefits of eLeasing, he stated, "Because of the gains in efficiency, increasing confidence and speed to capital, there is a growing digital ecosystem of originators, funders and investors. As a result, there is also a greater expectation to the conduct business digitally—and lenders who do not maybe left behind."
As digital acceptance grows, along with more requirements for the adoption of electronic chattel paper, the management of digital financial assets post-signature becomes vital to eLeasing companies. With greater scrutiny from both investors and regulators, equipment lease companies must showcase certainty in assets and the surrounding data, fortunately eLeasing technology can now meet regulatory requirements.
eLeasing Case Study: Pawnee Leasing
The article also featured a case study on Colorado-based small-ticket equipment finance company Pawnee Leasing. Pawnee transitioned to eLeasing three years ago and utilizes eOriginal's electronic vaulting platform. "The speed really cuts down on funding time, said Brian Schonfeld, Pawnee's Manager of Information Systems & Analytics. "And when a broker calls, we can tell them exactly where we are in the process."
Join Us for the Upcoming eLeasing ELFA Webinar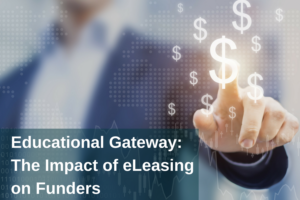 Later this month, I am excited to present alongside Pawnee's Brian Schonfeld on the fourth installment of ELFA's Educational Gateway webinar series. In this session, we will focus on the business benefits of eLeasing and the importance of funder acceptance.
To continue its steady growth trajectory, equipment lease and finance leaders need to utilize eLeasing and digital transaction technology to enhance the funder experience from a post-closing perspective. If you want to learn more and hear about the business benefits of eLeasing, I encourage you to register for the September 28th webinar.