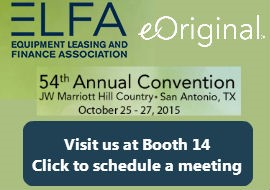 In just a week the eOriginal team will touch down in San Antonio to join 800 attendees and exhibitors for this year's Equipment Lease and Financing Association's (ELFA) Annual conference. For more than five years eOriginal has been a member of this great organization, which serves as a platform to advocate for the industry and a resource for information and industry development.
At this year's convention eOriginal's team will be on site exhibiting at booth 14. Additionally, John Jacobs, eOriginal's Director of Sales and a regular expert panelist on topics of Digital Transaction Management for the industry, will serve as a panelist in a breakout session: Beyond e-Signatures: Digital Contract Adoption can be a Competitive Advantage. The session will be held on the first full day of the conference, Monday, October 26 at 3pm.
John is excited to be participating alongside other industry leaders: Dominic Liberatore, Deputy General Counsel of DLL; Scott Stewart, President of OnePlace Capital; David Schaefer, CEO of Mintaka Financial; and Pat Frodyma, Technical Writer of LeaseTeam.
Digital transaction management has been slowly penetrating the equipment lease and financing industry. Our hope is that by participating at this year's annual event, we will increase the pace of digital adoption and the education of organizations in this space that eSignatures are just the beginning. A fully post-signature solution will bring added value and streamline industry business practices.
Interested in scheduling a meeting to learn more?