As the upbeat rock sounds of Bachman Turner Overdrive's Takin' Care of Business wafted through the ballroom doors, attendees mingled over morning coffee prior to the opening presentation of LeaseWave 2017, Odessa Technologies' 2nd annual user conference.
"And I'll be taking care of business (every day)/Taking care of business (every way)."
The song selection was apt for the crowd of equipment lease and finance professionals seeking new and innovative ways to transform their businesses, improve customer satisfaction and increase efficiency.
Taking Care of Business in a Digital Ecosystem
As the equipment lease and finance industry continues its shift into digital business ecosystems, we couldn't be more excited to participate in the conversation and provide educational resources.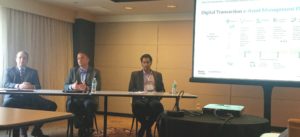 At LeaseWave, eOriginal's Director of FinTech Strategies John Jacobs joined Odessa's Daniel Gonzalez and attorney Matt Evans of Marks & Associates on the panel, End-to-End Digital: The Intersection of Technology & Business. The panel focused on the legality of eSignatures, the benefits of a digital transition and fielded questions from the audience pertaining to authentication, control, transparency and the benefits of an eChattel transition. Based on the great questions, it's safe to say that industry leaders are ready to take care of business in a digital way.
Start Digital, Stay Digital
An end-to-end digital solution starts with loan origination and includes eSignature, then moves to secure and compliant, electronic vaulting and provides access to funders for a line of credit or a transfer for investor buying assets through a securitization. As we noted previously, a fully digital transaction management solution benefits equipment lease and finance companies by providing:
Improved customer experience– provide leasing clients with a fully digital lending experience from pre-loan to signature through to transfer to third parties
Reduced transaction costs – moving from digital to paper allows lenders to reduce the cost of origination and asset management through the asset life cycle
Greater operational efficiency – identify errors before closing and streamline the entire leasing operation with digital transactions
Speed to capital – obtain capital faster by connecting to funders and investors through a trusted digital ecosystem.
If your organization has yet to become part of the digital ecosystem, eOriginal can help. Additionally, we invite you to join us on June 28th for a complimentary webinar in ELFA's Educational Gateway Series focused on Legal and Compliance Considerations for an eLeasing Transition. Please click here to register.