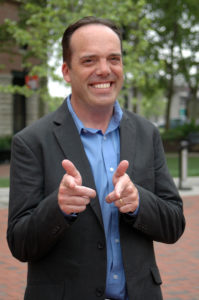 eOriginal is a great place to work filled with even greater people. We wanted to take a moment each month to recognize the dedicated individuals that shape our company with an Employee Spotlight blog series. Each person at eOriginal makes a difference, and they all deserve a moment to shine!
Today marks the inaugural profile and we are featuring none other than our Director of Marketing, Scott Shepherd. Scott provides thought leadership and oversees execution and support for all marketing activities, playing a central role in driving customer awareness, lead generation, revenue growth and evaluating marketing ROI, as well as ensuring that eOriginal maximizes value of its vital strategic alliances.
Q: Before working at eOriginal what was the most unusual or interesting job you held?
Scott: So many interesting jobs to choose from. There's assistant dispatcher for a trucking company, seller of spiral-sliced hams and clerk at a beer/liquor store. However, city beat reporter for a newspaper tops the list. There's an endless amount of intrigue in covering city government and crime in an urban area.
Q: What do you like most about eOriginal?
Scott: No doubt, it's the energy. With our recent growth, there is a palpable enthusiasm to working here.
Q: What has been the most important innovation you have witnessed in your lifetime?
Scott: Mobile phones. For both good and bad, we are always connected and that has transformed our way of life.
Q: If you had to eat one meal, every day for the rest of your life, what would it be?
Scott: Grilled cheese. Yes, I still eat like a 6-year-old.
Q: If Hollywood made a movie about your life, who would you like to see cast as you?
Scott: Morgan Freeman. He looks, sounds, and acts nothing like me, but who doesn't want to be represented by Morgan Freeman?
By now I'm sure you understand why Scott was the perfect choice for our first Employee Spotlight. He brings a creative, clever, and humorous energy to our management team that has greatly influenced our overall growth in the last two years. Stay tuned for more editions to learn about our ever-growing team of rock stars!