We are kicking 2017 off right with our January employee spotlight. Samantha Moritz is eOriginal's Strategic Alliance Manager. Specifically, Sam focuses on our highest grossing partner, DocuSign. Her history with eOriginal dates to the late 90's when she worked for our CEO and President, Steve Bisbee as director of investor relations. After a brief break, Sam resumed her tenure at eOriginal in the early 2000's as director of sales and marketing, took a short hiatus, and then returned in 2012 in the role of strategic alliance manager. Since then, the DocuSign team has grown exponentially from one employee (Sam) to currently a team of six focused solely on the management, growth and success of the partnership.
Q: What initially drew you to eOriginal?  How has the company changed in the time that you've worked here?
Sam: In the late 90's we were riding the "dot-com" wave and looking to work for the next big technology company. I just finished a second bachelor's in law, when I decided selling technology would be much more fun than becoming an attorney.
After reading an article about the Camden Yards-based Baltimore company, I was impressed by their management team, value proposition and market potential, and the rest, as they say, is history. Since then, my sales management and alliance career path has led me to large fortune 500 companies where I gained the expertise and experience of "big company" challenges and luxuries, including a stint in the Federal Government sector. However, the thrill of working for an entrepreneurial company where you can create a more immediate ripple effect on the bottom line, or not, is my true passion.
Over the years, I've watched eOriginal resist and sustain many historic events, including the dot-com stock bubble of 2000, the financial crisis of 2008 and the terror of 9/11, which I learned of in the middle of an eOriginal Board of Directors meeting, when I was serving in the role of corporate secretary. The changes and resilience eOriginal has endured have been many, encompassing numerous peaks, and certainly some valleys, which we have overcome to put us in the solid position we are in today.
Q: It's Saturday afternoon. We will usually find you:
Sam: After a great morning workout, reading a great book or making exciting plans by the fire with my best friend and husband, plus our two children.
Q: Where is the best place you've traveled to, and why?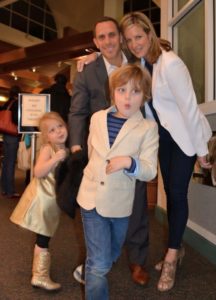 Sam: Florence, Italy. It was my first trip with my now husband. We stayed in a former monastery (now hotel) up in the hills of Tuscany. Food, wine and scenery could not be beat. We were married before the year ended.
Q: What TV show or movie are you ashamed to admit you love?
Sam: Dexter and the Soprano's! I cried when Tony, I mean, James Gandolfini died.
Q: What is your biggest pet peeve?
Sam: Tin foil, metal against metal and loud chewing!
Q: What is the weirdest job you've ever had?
Sam: I worked my way through college. I used to be a waitress at a 50's themed restaurant. The uniform was awful and we had choreographed dance routines to some of the oldies music. My Mom and Dad absolutely loved it.
Sam is without a doubt the ultimate example of poise and professionalism and is a fantastic mother and mentor. She knows the industry inside out and is an integral member of eOriginal's progress. Not only would our DocuSign alliance not be what it is today without her, but the company as a whole as well.