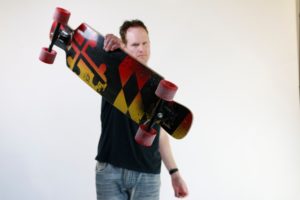 It's the most wonderful time of the year and to celebrate we have selected Don Rockett for December's employee spotlight. Rockett's career has always been closely linked to customer service. He joined eOriginal just two short months ago as our Customer Support Manager and is extremely pleased with his role and the leadership in place at the company.
Q: What drew you to eOriginal? How has it changed since?
Rockett: I initially became interested in eOriginal after reading several growth and investment related news articles on social media related to the Baltimore area. I previously worked with Craig Allen [Senior Product Manager] and inquired about his experience as an employee; his feedback was positive, so I began the hiring process. I have to say my expectations have been exceeded in my first couple of months, and the organization is constantly evolving. During my first week, the company held a town hall style event to communicate new business development and organizational changes.
Q: What fictional character would you most like to switch lives with?
Rockett: Fox Mulder – I have always loved the X-Files and the extreme nature of the investigations. While working on cases would be enjoyable, his personal life would not be, so I would only want a partial switch.
Q: Where would you like to go on a dream vacation?
Rockett: I would like to tour the castles in Scotland and Ireland to find out more about my heritage.
Q: Where is your favorite place to eat?
Rockett: I love exploring the neighborhoods in Baltimore to find new places. Lately, I have found specific items at Mothers, Brewer's Cask, The Handlebar Café, and Dinosaur BBQ that are very good.
Q: What was your favorite book, toy, or outfit as a child?
Rockett: "The Giving Tree", Sit-n-Spin, Camo
Q: What is your favorite sport?
Rockett: Basketball, specifically college…ACC. However, I have been becoming more and more focused on Orioles baseball and love spending afternoons either at Camden Yards or watching on MASN.
The Future is Bright
In just two months, Rockett has already made huge strides within our customer service department and we are so excited to see what else he will accomplish here.