For October, Cyreeta (CeCE) Curbeam, eOriginal's billing and contract management assistant, has been selected as the employee spotlight. CeCe has been with eOriginal for two and a half years and is our queen of QuickBooks and invoicing.
Q: What is your favorite part of working at eOriginal?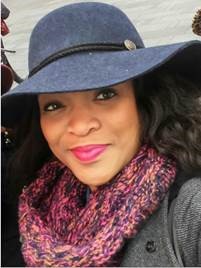 CeCe: I love the friendly atmosphere here at eOriginal. Everyone is easy to get along with and has a pleasant attitude. I can always expect someone to walk by my desk and put a smile on my face. In addition, we have quite a diverse group of people and the conversations that take place are most often both interesting and enlightening.
Q: What's one thing you couldn't live without?
CeCe: I could not live without my passport! I absolutely love to travel abroad. It keeps me sane.
Q: What is the greatest challenge you have had to overcome in your life thus far?
CeCe: I must admit that I've had a very blessed life with limited hardships. My family is a phenomenal support system and makes overcoming life's trials and tribulations much easier.
My greatest challenge was transitioning from employer to employee prior to coming to eO. After closing my own small business, it was very difficult to wrap my mind around working for someone else again. I lacked confidence and did not know what sector of business I wanted to explore next. I believe I was broken mentally and emotionally and dreaded the job-seeking process. I was rejected from several jobs before interviewing at eO, but when I walked out of my interview here I had a great feeling about the company and management as well. When I was told by the temp agency that referred me that I was selected, I knew I had overcome my greatest challenge.
Q: What country do you want to visit?
CeCe: I would love to visit France and eat great food!
Q: Who/What has been the biggest inspiration in your life?
CeC: My father, Corey D. Curbeam, has been the biggest inspiration in my life. He is the epitome of a great family provider. Watching him make his way through the rankings in the Baltimore City Fire Department and retiring as Deputy Chief of Administration so that he could give his family a decent life was an honor. He is always there when we need him and he continuously challenges us (his children) to be/do better.
CeCe mentioned that she can always expect someone to walk by her desk and put a smile on her face, but I believe anyone you ask here would say it's the opposite. She is someone that can brighten up any day, and one of my favorite people to strike up conversation with. She's full of sass, style, and sophistication, and eOriginal would not be the same without her!