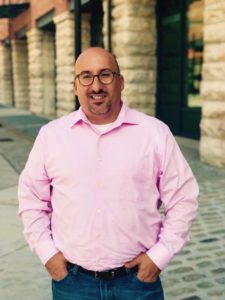 This month's employee spotlight features our Director of Sales, Brendan Kain. Brendan started his career with eOriginal a year and a half ago, after spending 10+ years with a wireless distributor in various sales leadership and sales operations leadership roles. At eOriginal Brendan has been able to utilize many of the skills, concepts and best practices he learned and apply them to the areas he's currently involved in such as direct and channel sales, sales development, account management and sales operations.
Q: How has eOriginal helped you in your career development?
Brendan: My tenure at eOriginal has given me a crash course in the rapidly evolving world of financial services, particularly where finance and technology have converged and where we are leading the transformation of lending and funding for originators, custodians, investors and across the industry. eOriginal has also allowed me the opportunity to view the business with more of a general manager lens, which requires holistic thinking, collaboration, process creation and an entrepreneurial spirit.
Q: What is your favorite line from a movie?
Brendan: Wow, so many to choose from. To keep it PG rated, I'm going to go with one of my favorites from Caddy shack, "So I got that going for me, which is nice."
Q: Describe what you were like at age 10.
Brendan: It was a different time then, so you'd likely find me playing outside with my friends late into the night without a care in the world. At 10, I had likely just moved back to the NY/NJ area after a short time living in Florida. I was very much into sports, particularly baseball and I was on a travel team that got to play in the Babe Ruth World Series in Washington State, which was a highlight of my youth.
Q: What time period would you most liked to have lived during?
Brendan: That's a great question! I imagine the Roaring 20's in New York City or Paris was a fun time to be alive.
Q: What is your least favorite food?
Brendan: I consider myself an adventurous eater at this point in my life and while I like most cuisines, I am still not a huge fan of mushrooms unless of course they are buried in some delicious sauce.
Q: What are your favorite things to do for fun?
Brendan: Right now, it is all about spending time with my family and friends. My wife Jen, our two young girls, Sophie and Mollie, and I recently moved and we have been hosting a lot of gatherings and dinners at our new house. We love entertaining and I personally love cooking (mostly Italian) for our guests and relaxing over good food and an adult beverage or two. I am into sports and while I don't play as much as I used to, I enjoy golfing whenever I can and in general following my favorite sports teams i.e. the Yankees and Giants.
Q: Where do you see yourself in five years?
Brendan: I see myself leading and serving a passionate and dynamic team that is focused on solving customers business problems and adding value to their processes. I enjoy living in the greater Baltimore area so I envision living where I live now, but perhaps travelling a little more as my children get older.
Final Thoughts
Brendan has been another terrific addition to our growing company, and became a natural leader of our sales organization right away. He is also one of our Salesforce.com power users (something I personally appreciate about him), and makes a great Princess Leia!