There is a thirst for knowledge for all things digital across the mortgage ecosystem, with eNotes and eClosings at the epicenter. Fortunately, key players are doing their best to educate the industry on the benefits of moving away from paper. A perfect example is MERSCORP Holdings, Inc. Not only is MERS a pillar of the industry thanks to the MERS® eRegistry, and now the MERS® eSuite, but also due the fact that the organization never misses a chance to provide amazing educational resources.
In late June, members of the eOriginal team attended the MERS User Conference in Reston, Virginia. With a clever tagline of Creating "E"fficiencies for Your Organization, we have to take our hats off to the MERS team, not only did they throw a fantastic event, but they also brought together many of the great minds in the digital mortgage world. From David Whitaker, Sharon Horstkamp and Margo Tank's discussion of their eNotes White Paper, to Ozie Stallworth and the upcoming North Carolina's Electronic Mortgage Closing Best Practices Guide, there was no shortage of information.
Experts Energized the Audience at the eMortgage Boot Camp
New this year was the eMortgage Boot Camp, which featured more than six hours of learning solely dedicated to, you guessed it, eMortgage. Attendees learned about the efficiencies and cost savings created through digital mortgage processes.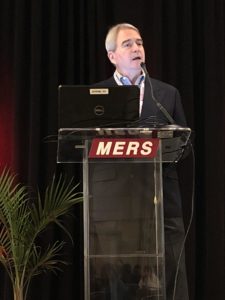 Fannie Mae sponsored the eMortgage Boot Camp breakfast and eOriginal sponsored the lunch. Our President and Founder, Stephen Bisbee, introduced the lunchtime guest speaker, Daniel Payne, partner at Murphy & McGonigle. Both Stephen and Daniel shared their experiences in helping other industries evolve from a paper to a digital environment.
Additionally, the MERS team presented a live eNote Solutions demo to the roughly 250+ members fully engaged in the main ballroom. We loved seeing the "Powered by eOriginal" logo on the big screen.
The eMortgage Boot Camp was packed with experts who have already taken their mortgage business digital. Attendees heard from originators, warehouse lenders, and investors who have implemented eNotes. Panelists that shared their experiences include Patrick Hartford (Quicken Loans), Todd Williams (Mid America Mortgage), Eileen Albus (Bank of America Merrill Lynch), Mark Ladd (Simplifile), and Raj Penugonda (Freddie Mac). It was interesting to hear the use cases as to why they implemented eNotes, how their organizations are benefiting from the change, and what the transformation was like.
Perpetuating the Partnership and Creating "E'fficiencies
You may have seen the headlines earlier this year regarding MERS® eNote Solutions, Powered by eOriginal. Since the launch, MERS and eOriginal have worked hand-in-hand to bring the benefits of eNotes to the digital mortgage ecosystem. MERS eNote Solutions provides a convenient path to implementation by supporting the creation, electronic signing, and vaulting of eNotes in a single platform. The solution has opened the digital mortgage ecosystem and reduced barriers to entry. Additional benefits include the fact that digital processes:
Eliminate lost notes
Improve audit trails
Enhance security
Improved efficiencies and automation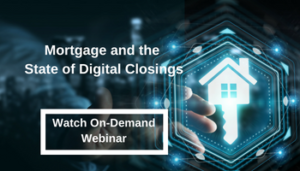 As I mentioned previously, "When it comes to digital mortgage, it is not a question of if lenders will automate, but rather to what extent they will adopt and implement. Fortunately, the technologies that were once only available for large lenders with deep resources are now starting to become available to smaller lenders. More importantly, the focus has turned to the selection of the right technology service, digital mortgage strategy, and how to remain competitive."
I look forward to continuing our work with MERS and seeing the ongoing momentum and adoption of digital across the ecosystem. If you would like to learn more about the current landscape, take a moment to watch our recent webinar, Mortgage and the State of Digital Closings. Play Video