Farewell to "Sign Here. Press Hard. Bottom Copy is Yours."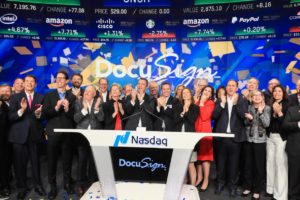 Congratulations to our partner for closing the deal on its highly anticipated IPO last week. Once again, DocuSign has exceeded the expectations of the industry and is "publicly" leading the way for digital transformation of businesses around the world.
This evolution continues to drive the creation of a true digital system of agreement, starting from the initial signature and "sale" of an asset through to the pooling and secondary market transactions and resale of the same.  All of this high-value business is conducted digitally without a single sheet of paper nor an ounce of uncertainty around the ownership and value of the original asset.
Sign Here. Press Hard. Bottom Copy is Yours.
Gone are the days of "Sign here. Press Hard. Bottom Copy is Yours." If you are a veteran sales professional, or just a movie lover, you may recall "Glengarry Glen Ross" and, of course, the real estate contracts that were signed in triplicate with the bottom copy remaining as the source record of the transaction. The IPO is symbolic of how far we have come since the early days of blue-ink signature of carbon copies in triplicate.
For more than a decade, eOriginal and DocuSign have worked together to help financial services companies adopt the best technologies and the best practices. We have jointly executed and managed countless transactions worth billions and billions, both at the point of sale and throughout the secondary markets post-execution. We have helped to transform companies across the financial services ecosystem, from online lending and equipment finance to solar finance and auto finance, with growing opportunities in real estate transactions.
Of course, the success of DocuSign and our partnership is supported by a stellar team of professionals who may or may not remember the triplicate copy contract; but have mastered the art of selling electronic signatures and a true system of agreement with partners like eOriginal.
At DocuSign's helm today, CEO Dan Springer and the very notorious Chairman of the Board Keith Krach, are all widely recognized for the success of DocuSign with due respect.  While reading the blog, "Innovation at Scale: My Journey with Keith Krach from Purdue to DocuSign and Beyond", written by another successful contributor to DocuSign's success, Marc Carlson, I thought of all the many, many  talented sales leaders, account managers, account executives, channel managers and sales support professionals at DocuSign that have come and gone, all making great contributions to bring DocuSign to this point.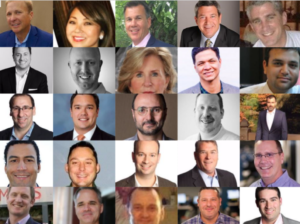 The exponential growth of DocuSign and eOriginal, and hence the DocuSign IPO, would not have been possible without these folks contributing to the success of DocuSign who I would be remiss if I didn't' highlight for their exceptional contributions including Matt Willis, Brian Smith, Susan McRae, Ryan Cox, Tony Spensieri, Tom Barnes, Craig Levy, Steve Woodworth, Drew McCabe, Dewey Wald, Dan Kennelly, Leah McTiernan, David Thorpe, Bob DeSantis, Glenn Griffin, Andrew Gaston, Joe Higuet, Jamie Wiecks, Melissa Erickson, Amit Sharma, Adam Hernandez, Ben Levien, John Cameron, Josh Edwards, Melissa Vizarre, Rob Cuningham, Nathan Cowan and, of course, Loren Alhadeff who has risen through the ranks alongside his loyal team whom he has remained steadfast and true. This is just a few of the great DocuSign people I have worked with…[and I could go on, but my editor told me enough already]. For those named and unnamed, this is a committed group of professionals that I have been thrilled to stand alongside of in partnership during this exhilarating journey.
As a long-time eOriginal employee, DocuSign partner, and a witness to the electronic signature and digital transaction adoption wave over the past decade, I am amazed at where we are today.  DocuSign's successful IPO is not only proof but a great testimony.  Congratulations not just to DocuSign, but to all of those who have been a part of it.