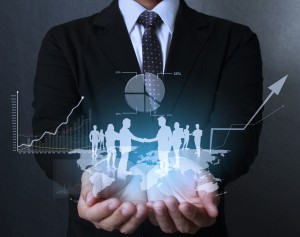 The digital disruption and transformation of the financial industry is having an impact on retail banks. Further, the pressure to update infrastructure, meet customer demands, comply with regulatory expectations and compete with alternative lenders is at an all-time high. According PwC's Retail Banking 2020 – Evolution or Revolution report, 55% of bank executives view non-traditional players as a threat to traditional banks.
A threat? Well, on one hand, yes, non-traditional, tech-savvy digital lenders are disrupting the way traditional banks conduct business and influencing customer expectations. However, we conducted our own research at LendIt 2017 and 90% of respondents anticipate partnerships between banks and digital lenders to spike. Whether it is anticipated convergence of alternative and traditional lending, or a perceived threat, the fact is that the financial ecosystems of the future require a digital transformation.
Taking Steps to Digitize
According to PwC's report, "Technology is rapidly morphing from an expensive challenge into a potent enabler of both customer experience and effective operations. Non-traditional players are challenging the established order, leading with customer-centric innovation."
Fortunately, moving away from paper is a far less daunting task than many imagine, and as a result, your institution will experience more efficient processes, save money on costs associated with printing, shipping and storing paper documents and will have the peace of mind that your documents and the associated data are protected, auditable and compliant.
Digital Adoption: Attracting Customers
Recently I read a Cisco report titled, Digital Transformation for the Retail Banking Industry, which focused on defining and delivering value for next-generation business. Referencing digital disruption and financial ecosystems, Cisco outlines, "Such models rely on new embedded digital capabilities, shaped by technologies that offer sustainable and differentiated value. By the end of this decade, these capabilities will be crucial to establishing a distribution model that is agile enough to keep pace with customer expectations, drive differentiated value, and propel growth."
This decade ends in less than three years. I can't help but ask: If a bank delays a digital transformation of its processes, will it still be in business in 2020?
It is critical for retail banks to take steps to enhance and extend modern transaction capabilities to support best practices, meet funder requirements and exceed customers' expectations.
Meeting Compliance Requirements
The regulatory landscape is far from static. It is important to adopt a technology solution that meets all existing regulatory requirements and keeps a finger on the pulse of what is coming down the pipeline so there are no surprises.
It's Easier than You Think
Retail banks that have successfully implemented a fully digital solution have set the bar for customer service and revenue growth. Even better, they are more likely to be partnership candidates for alternative lenders.
Finding the right solution for your business is easier than you think. The eOriginal team is here to help every step of the way. Please take a moment to review our recent white paper, Paperless Banking: Your Five-Point Checklist for Digital Success, to learn how to successfully implement a digital environment for your bank.