The Equipment Leasing and Finance Association (ELFA) recently released its trends list for 2018 and we were excited to see technology ranked prominently. As noted in the report, "Equipment acquisition is a key driver of supply chains across all U.S. manufacturing and service sectors," said ELFA President and CEO Ralph Petta. "Equipment leasing and financing provide the source of funding for a majority of U.S. businesses—8 out of 10—to acquire the productive assets they need to operate and grow."
Not only will "technological advances in equipment attract businesses looking to improve efficiencies," ELFA asserts, but "new technology will be even more irresistible as businesses look for ways to increase profitability and take advantage of new market opportunities in the growing economy. Equipment leasing companies must invest in technology for their contracts and post-signature assets to remain competitive and build investor confidence and trust." You will be able to see more of this in an upcoming blog by our President and Founder Stephen Bisbee about the recent ELFA Executive Roundtable in Miami.
As you know, more investors are looking for equipment leasing companies that can guarantee that both transactions and post-signature digital financial assets are secure. By removing manual paper processes for both stages, digital securitization delivers an auditable chain of custody and control.
Get Connected
I have spoken to many people wary of making this technology change. They don't know where to begin and have the idea that it will be an arduous journey with a painful, rip-and-replace implementation. Nothing could be further from the truth.
With fewer operational changes than one might suspect, organizations complete the technical groundwork to adopt electronic document management with very little business disruption. Here are three things to do today to move you further towards that goal:
1. Assess: Get the right people in the room to evaluate your systems. Include the following departments:
Information Technology
Business Development
Information Security
Marketing
Compliance
Customer Service
Legal
2. Ask Yourself: (Use these few questions at kick-off)
What will you need to do with your documents post-signature?
How will you ensure legal enforceability for your electronic documents?
What type of information will your records/documents contain?
What type of document security and compliance will need to be maintained once records are electronic?
Who will need to have access to these documents pre-and post-signature?
3. Address Processes: (Be sure to create a roadmap for all of your processes)
Origination checkpoints include error-prone manual processes and hard copy transfer times and storage.
Post-signatory challenges might include costly third-party surety contracts and document management for hard-copy processes.
Executive, legal, financial and IT stakeholder communications and buy-in.
Potential implementation barriers you expect to confront and planning for these challenges, both from a change management and technology integration perspective.
During your discovery sessions, if you are interviewing us as a vendor, we will probably reference eOriginal customer and leading equipment leasing company, Pawnee Leasing.  Pawnee gained traction on their eContracting processes and aligned behind digital transaction management that made them much more attractive to potential investors.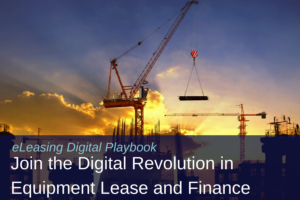 In the past, once documents were originated and executed, Pawnee bundled and stored financial asset documents in a secured warehouse, requiring a significant amount of physical storage space, as well as facility costs. Now, during the post-signature life of the contracts, the financial assets are electronically vaulted in a secure location with easy access to the audit trail and the authoritative copy of the original documents. They also integrated with existing systems easily (in this case, AppTrak software) through an Application Programming Interface.
For more about the digital transformation of equipment leasing , please view our eLeasing Digital Playbook.