MBA Annual, the premier industry event hosted by the Mortgage Bankers Association, serves as the jump-off for key players to discuss hot button issues, the latest technologies and regulatory factors. As stakeholders from across the mortgage ecosystem descended on Denver's Colorado Convention Center for MBA Annual 2017, the conversations made one thing abundantly clear: Digital mortgage is the new reality.
A Digital Turning Point
As noted in a recent blog by the William Mills Agency, "The term "Digital Mortgage" seemed to be thrown around a lot and although this phrase has been part of the industry's vernacular since the mid-90's, the technologies and best practices highlighted throughout the conference seem to support the notion that a fully "Digital Mortgage" experience may become a reality in the very near future."
This sentiment was echoed in the session, Technology Innovation to Improve Workflow, Improve Data Integrity and Reduce Cost, that highlighted the role of technology in driving down closings costs and that the industry is at a technologic turning point.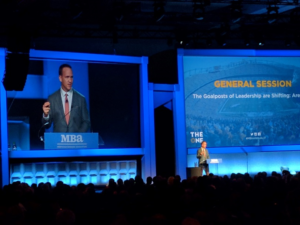 Additionally, Fannie Mae's Day 1 Certainty program, which provides customers with freedom from representations and warranties on key aspects of the mortgage origination process, was an extremely hot topic for the front-end of the digital mortgage experience. Paired with eOriginal's role as Fannie Mae's electronic vault provider, scalability is on the rise as it pertains to digital mortgage.
At eOriginal, we firmly believe that digital mortgage is the new reality and recent momentum surrounding our partnerships with Quicken Loans, Notarize and Fannie Mae, fed the buzz in the Mile High City. At MBA Annual 2017, there was a clear consensus that eMortgage is a game-changer and eOriginal is an integral part of that the change.
Peyton Manning on Adapting to New Realities
In case his hall-of-fame football career is not enough, former Indianapolis Colt and Denver Bronco Peyton Manning is also a dynamic speaker and his speech was a highlight of MBA Annual 2017. His session, The Goalposts of Leadership are Shifting: Are You?, compared his experiences as a leader on the football field to the importance of leadership in the mortgage space. The theme of MBA Annual 2017 was "The One", and Manning integrated this into his presentation—noting  that there is strength in unity, the untapped power of being a team and that together we can achieve truly remarkable goals.
He also noted that to thrive, you must be willing and aggressively adapt to new realities. This statement resonated with the room, as the disruption that comes with digitization came to mind for many.
eOriginal in the Mile High City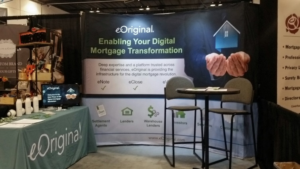 In eOriginal's first year exhibiting at the event, we engaged in great conversations at the booth, a packed meeting schedule, and attended several great events and networking opportunities. It was exciting to hear the buzz surrounding our digital mortgage platform—including a shout-out to eOriginal in the session, mPact Introduction to Mortgage Banking, a 35 and under event.
A Legend-ary Event
The crescendo of MBA Annual 2017 for many was ConcertMBA featuring Grammy Award-winning artist John Legend. Legend's performance in the Mile High Ballroom was Legend (wait for it) ary, to say the least. The show included three back-up singers, a full band and tons of energy. An autographed microphone and piano bench were auctioned off to benefit the MBA Opens Doors Foundation, dedicated to helping families with critically ill or injured children to stay in their homes.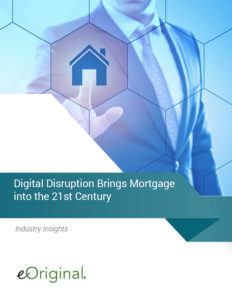 The eOriginal team couldn't have had a better experience at MBA Annual 2017—the conversations were full of value and we are so excited to see the momentum surrounding digital mortgage. eOriginal's digital mortgage team is looking forward to future MBA events, including the upcoming MBA Tech in April.
New Industry Insights from eOriginal
Later this week, we are releasing a new research paper titled, Industry Insights: Digital Disruption Brings Mortgage. This is a must-read for anyone in the  mortgage ecosystem as it takes a deep dive into the key pieces of digital mortgage, industry acceptance and the regulatory landscape. We invite you to sign-up for a complimentary copy here.