Equipment lease and finance is often viewed, fairly or not, as an "older" industry that moves a little slower and is hesitant to adopt new trends. However, for three days in the desert last week at the 55th annual convention of the Equipment Leasing and Finance Association (ELFA), the message and the spirit of those in attendance was energetic and forward thinking. Indeed, it felt like a new era for equipment lease—an era embracing the adoption of new approaches to old business models.
Among the many highlights of the conference was ELFA President Ralph Petta using a portion of his annual address to announce the association's new initiative surrounding digital documents and electronic chattel, a.k.a. e-chattel.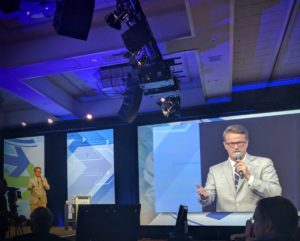 "In our increasingly digital world, the time is ripe for equipment finance companies to consider converting to electronic chattel paper," said Petta said in a release from ELFA. "While some member companies have already done so, others have questions about the adoption process. We are pleased to launch this important effort to educate our membership and their business partners about why and how to go digital with e-chattel paper."
Encouraging the Adoption of Digital Best Practices
The initiative encourages members to use e-chattel paper and adopt digital best practices in lieu of relying solely on the paper-based lending processes that are prevalent in the equipment finance industry today. As long-standing members of ELFA and a lead voice in digital transformation, eOriginal is proud to be tapped to spearhead this effort.
The benefits of digital are numerous and hard to dispute, including that it:
Simplifies the loan origination process and pools contracts faster and more efficiently;
Significantly reduces sales cycles and enhances the customer experience;
Allows equipment finance companies to digitally sign and manage loans and leases from financing through to the secondary market; and,
Offers accelerated funding cycles and increases real-time transparency into the funding process.
Initiative Details
Over the next 18 months this educational campaign will be shared through a variety of avenues, including ELFA's Equipment Leasing & Finance magazine, its QuickBrief eNewsletter, www.ELFAonline.org and through social media channels. Most notably, it will also include regular educational webinars, starting Dec. 14 with Educational Gateway: Your Guide to e-Chattel and Digital Technology, exclusively available to the ELFA membership. In addition, eOriginal will share key updates and resources with its contacts within the equipment leasing and finance industry.