According to a new survey of 1,217 U.S. adults conducted by Harris Poll on behalf of Ford, "As many as 83% of Americans say they would like to spend as little time at the dealership as possible when shopping for a new car." In response, Ford Motor Credit is partnering with tech start-up AutoFi, to provide digital financing options for consumers. The program is available to consumers in Groveport, Ohio, and Ford intends to roll the offering out nationwide.
The intent is to provide a customer experience that is faster, smoother and simpler. As noted by a Ricart Ford representative participating in the pilot program, "Technology is transforming just about every type of financed consumer purchase, and this new digital capability will help make that change for automotive purchases and deliver greater experiences."
Are We There Yet?
We couldn't agree more. Last week, our team attended AFSA's 21st Annual Conference in New Orleans. The theme of this year's event was "The Customer Journey: Are We There Yet?", and it resonated with us. Addressing pain points in the auto buying process was also a hot topic. Fortunately, advanced digital transaction management offers the capability to not only improve the customer experience, but the experience of all stakeholders in the auto finance process.
The conference kicked off with opening remarks from David Paul, senior vice president of American Honda Finance Corp, where he asked the audience simply, "Are we there yet?" He also asked if we are leading a growth mindset organization, and if we are as committed to customer satisfaction as much as we could be? As the packed room pondered its answers to these questions, David was quick to add that given there's always room for improvement, we are definitely not there yet… and that led to the highlight of the morning – the session's keynote address from NY Times Best Selling Author, Josh Linkler, who whipped the room into a frenzy with his TedTalk on the five obsessions of innovators:
Get curious – by constantly seeking out the why, what if and why not
Crave what's next – by developing a future orientation, a plan against obsolescence
Defy tradition – by doing a 'judo-flip' of all of our challenges, threats and approaches to them
Get scrappy – taking three strings off your guitar and still play a beautiful song…
Adapt fast – real time innovation, imagine your clients writing your ad copy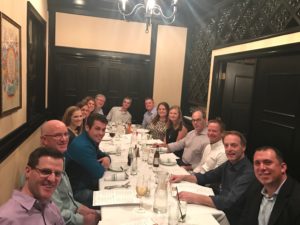 Josh closed his talk with a story about Cleveland Whiskey, whose founder came up with concept for his exploding company during his life's darkest hour. It's never too late to take on an innovative mindset.
This was my fourth AFSA conference and it was great to see some familiar faces and to meet some new ones as well. Everyone is supportive and interested to hear what each company is there to represent, and interest in going digital continues to gain prevalence with each passing show.