The COVID-19 pandemic has caused major disruption in many industries around the country, and mortgage is no exception. With refinancing rates at an all-time low, a surge in activity has organizations scrambling to figure out how to facilitate closings and related services during a time that calls for social distancing.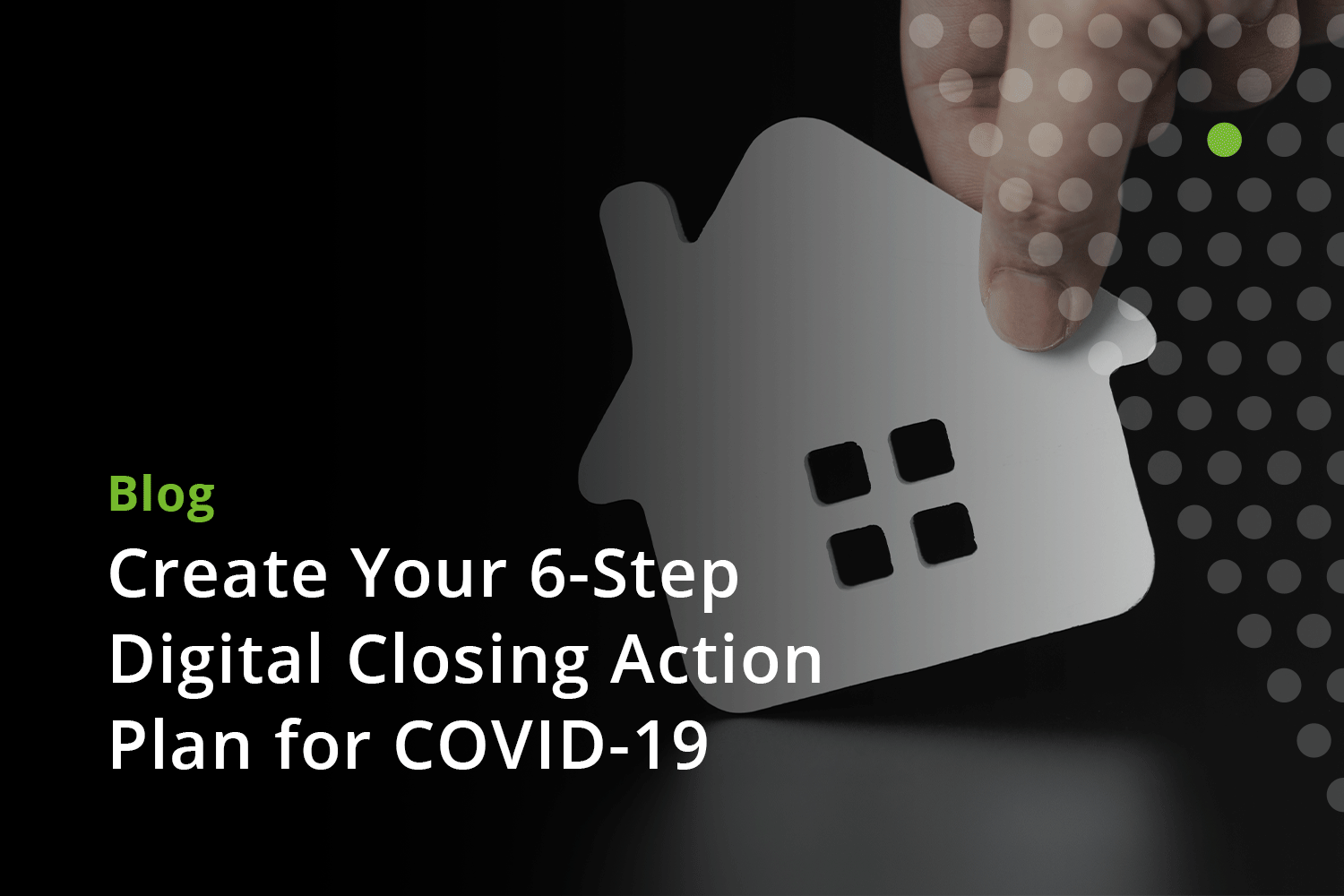 In a recent webinar, COVID-19: Creating Your Action Plan for Digital Closings, eOriginal spoke to experts from Fannie Mae, Fairway Independent Mortgage, Knight Barry Title Group, and Falcon Capital Advisors to get their insights on how to thoughtfully navigate the crisis and create an action plan for digital closings.
Here are the key takeaways.
The Reality of Technology Readiness
There's a strong push to move from wet signatures to RON, and close on remote platforms rather than in person. However, 100% digital, no-contact closes with remote online notarizations (RON) are not universally possible.
While many eClosing platforms and services are available, and new legislation is being passed, less than half of states accepted RON, and just over a third accepted IPEN at the beginning of the COVID-19 crisis.
The reality is that ecosystem acceptance and regulatory enablement vary across organizations and agencies. There is also confusion about those regulations, which can also change quickly. For example, details are still being ironed out regarding borrower authentication— how to identify if a transaction was closed remotely, and how to establish minimum standards for RON that maintain flexibility to allow for as many closings as possible, but still protect against fraud.
The good news is that even if closings are only partially digital, there are still ways to deploy technology and processes that help the entire industry move forward during the COVID-19 crisis. Although there is no silver bullet, where technology is appropriate, it should be used.
Following these six steps when creating a digital closing action plan will ensure that your organization is implementing eClosing technology in the most impactful way possible.
Your Digital Closing Action Plan in Six Steps
1.Establish a war-room approach to accelerate change management.
The COVID-19 crisis means that your customers and employees are experiencing fear and panic, and everyone has a lot of questions. Organizations must proactively problem solve, meeting different parties where they're at. Eligibility for loan types, programs, and products will vary—and technology readiness—so settlement agents and lenders need to have conversations with vendors (and vice versa) to tackle challenges with individual situations and circumstances.
2. Audit digital adoption work to date.
No matter where in the ecosystem you reside, and even if you have already selected technology partners, it's critical to understand how tech impacts existing business operations. From there, it becomes easier to uncover and communicate what you need to successfully execute closings in a rapidly shifting environment.
3. Assess your risk profile and acceptance criteria to build transaction-level qualifications for digital and paper closings.
Spend time establishing the goals, strategies, and outcomes of your e-strategy. Both lenders and agents should identify how "e" they want to be based on product, geography, and counterparty mix.
Doing re-fis? Selling or servicing? Whatever it is, know what you want to solve for, so you can get a jumpstart on working effectively toward that result. For example, if the state allows, settlement agents can begin getting notaries approved as eNotaries, and working with state agencies to ensure they are remote transaction ready. Lenders can also select and invest in RON platforms if agents aren't enabled to do so.
4. Evaluate digital closing technologies that support both short-term and long-term strategies.
Evaluate providers and products based on past performance—not just the types of closings they can support, but also what integrations are available and the degree of flexibility available to support different types of closings. Features should support your custom use case, which can depend on type, transaction volume, and clients. Solutions that make sense for very large vendors, for instance, may not work for smaller vendors.
You'll want to select products that connect to as many different platforms as possible, so you aren't trapped into one way of doing business. Based on your strategy, it's easier to select eClosing technology from one provider—or a collection of multiple, tightly integrated vendors—to deliver that solution.
5. Assess operational and technology readiness of partners and counterparties.
A seamless workflow and digital closing experience require more than one vendor, as well as tightly integrating with counterparties to create an ecosystem where programs and products match.
That means determining IPEN and RON eligibility based on your partners' and counterparties' readiness level. Reach out to understand any operational and policy constraints and share your own capabilities and readiness.
6. Develop optimal hybrid (paper+digital) business operations plan.
Paper isn't dead in this crisis, so assess how best to incorporate new technology platforms and providers into your existing business. Build new operational procedures and workflows that consider the constantly shifting landscape of regulations.
That may require getting creative (caveat: make sure any new process is legal and accepted by your counterparties). For example, some lenders are cutting down the amount of in-person time by pre-signing documents in advance. Other settlement agents are doing drive-through closings to save time and reduce direct contact. Ultimately, organizations should customize strategies on a case-by-case basis, frequently communicating with counterparties and partners to ensure successful outcomes.
There Is No One-Size-Fits-All Approach
The race is on to facilitate digital closings as widely as possible, to as many people as possible, so it's important for all parties involved in digital closings to keep checking applicability and getting clarity on minimum standards.
For organizations evaluating digital closing technology, there is work to be done to connect the dots through an ecosystem that doesn't always match end to end. After that, the important thing is to ensure any eClosing technology you adopt can be implemented to deliver immediate value—and be supported and scaled beyond Day One.
Watch the full webinar for tips on evaluating technology providers, and more detailed game plans for settlement agents and lenders.